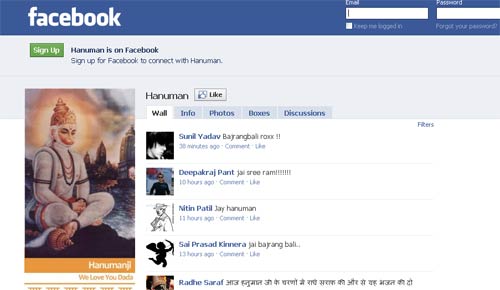 Lucknow: Sankat Mochan Temple Trust  that runs Hanuman Setu temple in Lucknow  has opened a website  (www.sankatmochan.org) and a profile on the social networking site Facebook, reports Times of India. Taking a cue, even the lord of Hanuman Garhi in Ayodhya has opened an account on Facebook.
Chhoti Diwali happens to be the birthday of Lord Hanuman. His ardent devotees are ready to celebrate the occasion in Lucknow and Ayodhya, and this time one can expect them to make a beeline at Lord's Facebook profile too.
So, where did the idea come from? General secretary of Sankat Mochan Temple Trust S L Kapoor said: ''Some sevaks suggested that we must keep pace with the changing times and the members of the trust agreed.'' Kapoor, a retired officer from National Botanical Research Institute, has been associated with the temple trust for several years.
''There is no harm in catching up with changing times. Like Hanumanji, we all work to propagate the cause of human service and internet tools are a medium to achieve this goal,'' said Sunil Gomber, a devotee who has opened a museum dedicated to 'Pavanputra.'
The Hanuman Setu temple has a unique tradition. Devotees write letters to the deity here narrating their problems. The letters are read before the lord daily in the hope that he would shower his blessings on the devotees. Many say their prayers have been answered by the Lord.
It seems that time is not far when devotees will start sending e-mails to the deity.''At present, we do not have this facility but it is possible,'' said Kapoor. Since several boys from weaker socio-economic background are imparted computer education at the Hanuman Setu temple, the Lord may soon open an email account.
But till that happens, devotees can post on the god's profile on Facebook.