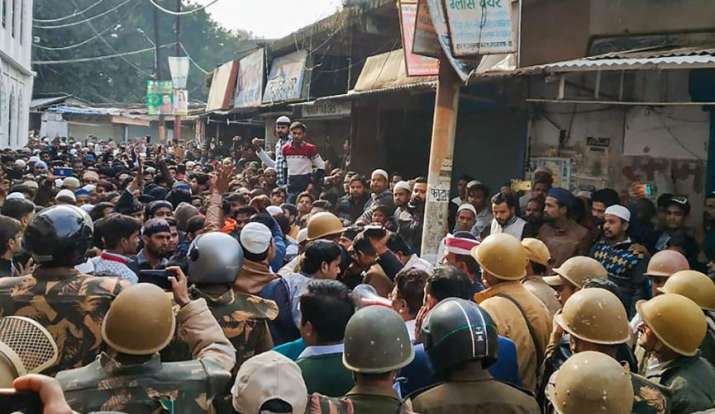 The large-scale protests over Citizenship (Amendment) Act (CAA) in and around Uttar Pradesh turned violent on Friday afternoon as protesters went on a rampage in six districts, pelting stones at the police, setting vehicles on fire and ransacking a number of police outposts. The protests against the CA Act led to major violence in Kanpur, Firozabad's Lalganj area, Bijnor's Naya Bazar area, Hapur, Muzaffarnagar and Gorakhpur. Protesters pelted stones at the police, set motorbikes and cars on fire and ransacked police outposts in Hardoi and Farrukhabad. In return, the police fired tear gas shells and lathicharged protesters.
Meanwhile, Bihar Chief Minister Nitish Kumar has refused to implement National Register of Citizens in his state amid intense pan-India protests against NRC and the new citizenship law.
Here are the LIVE updates: 
6: 40 pm: Twelve people were injured in police firing in the protest at Babupurwa locality in Kanpur, as many as 15 people were arrested. 
5: 59 pm: 7 bikes, 1 police post set ablaze in UP's Firozabad
At least seven bikes and one police post has been set ablaze in Firozabad in Uttar Pradesh. Four policemen and eight other people have injured in the violence that have erupted against the Citizenship law.
5: 10 pm: One death reported in Firozabad
News18 reported that one person has died in the anti-Citizenship Amendment Act protests in Uttar Pradesh's Firozabad on Friday.
5: 00 pm: Kanpur: Protesters chase police patrol jeep, ransack public property
The situation in Kanpur turned violent after protesters went unruly in one of Uttar Pradesh's biggest city. The crowd, television channels showed chased a police jeep and ransacked public property. 
4: 35 pm: In Bahraich, police have resorted to lathi-charge to disperse the protesters.
4: 32 pm: Police uses tear gas shells as mob goes violent in Bulandshahr
4: 30 pm: Massive protests at Bulandshahr Kale Aam
3: 40 pm: Internet services suspended in Bulandshahr
The ordered has been issued to contain the spread of rumours and misinformation on social media, District Magistrate Ravindra Kumar said.
"In order to maintain law and order and communal harmony, all mobile internet services are being suspended from 3 pm on December 20 in entire Bulandshahr. Internet-related loop lines and lease lines too shall remain suspended," he stated in an order.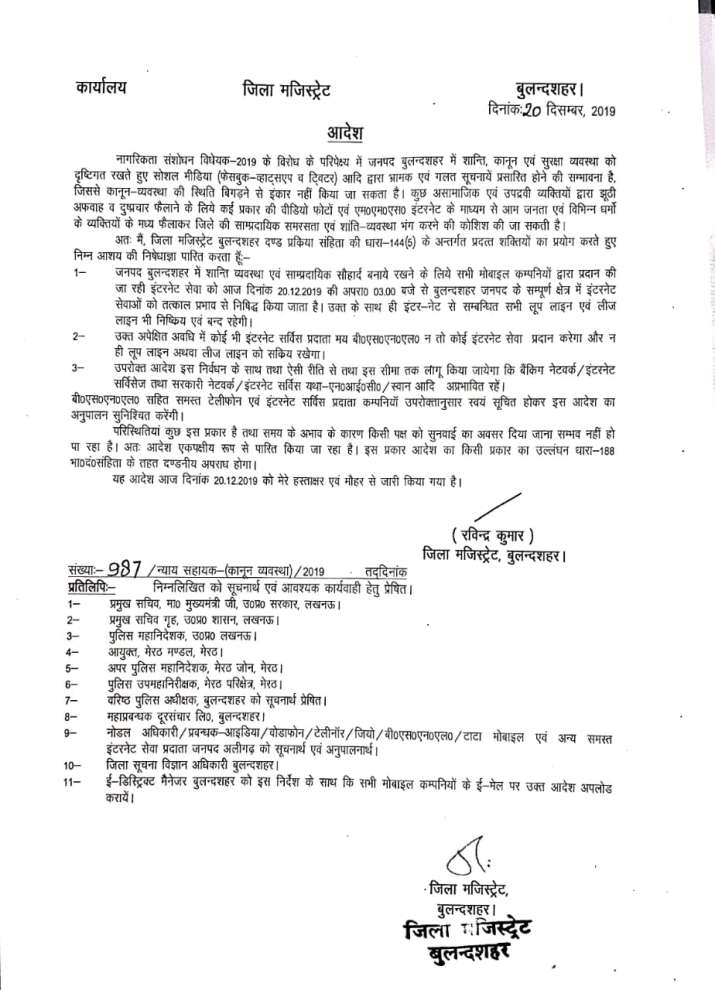 3: 30 pm: Firing in Bulandshahar
Firing has been reported from Bulandshahar as the protests turned violent and stone pelting took place. Several protestors and policemen are reported to be injured.  
3: 00 pm: In Uttar Pradesh's Bijnor, many vehicles have been damaged during the protest. Police have resorted to lathicharge as stone-pelting continues.
2: 50 pm Noida: Admn, police on alert; Section 144 in force
The police and administration in Noida and Greater Noida remained on alert. The police carried out flag march in parts of the twin cities, distributed pamphlets which had details related to the controversial law to people, at public places, even as social media was being monitored to check rumour mongering.
The pamphlets being distributed by the police in certain areas and inside passenger buses include "myths" and "facts" related to the law and strongly advises the people against believing and spreading rumours.