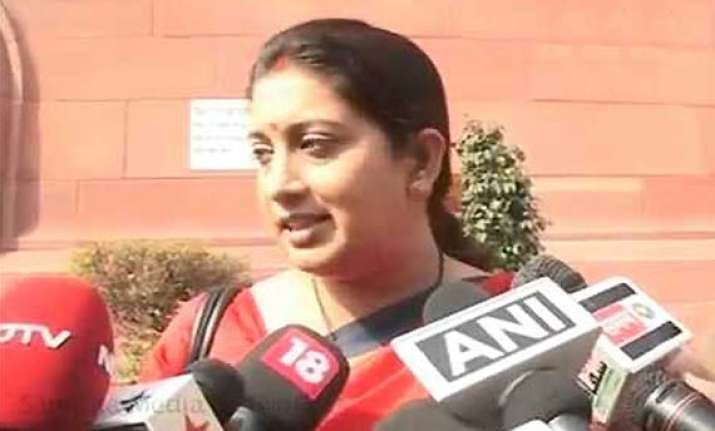 New Delhi, Dec 18: In another incident sure to raise serious concerns, some youths on Monday night tried to misbehave with a female TV reporter who had gone to the scene of crime for a walkthrough, but the latter managed to flee with the help of the male cameraman accompanying her.
BJP MP Smriti Irani made this allegation in the Rajya Sabha today during the discussion on the bus gangrape incident.  
Iran said, the girl working for Headlines Today news channel had gone to the scene of crime when four to five youths in a vehicle menacingly advanced towards her and attempted to misbehave with her.  
"The lady reporter fled from the scene and thanked God that a male cameraman was accompanying her", alleged Irani.  
"No amount of anguish and condemnation being expressed inside the House here will instil fear in the minds of such culprits, because they are having a free run in the national capital", the BJP member said.  
Smriti Irani also pointed out that the private bus in which the horrendous crime took place, works as a school bus in the daytime.  
"Can you imagine leaving the fate of our schoolgoing children to such goons running school buses?", asked Irani.  
Since November 2010, Irani said, we have been demanding that the Delhi Police Commissioner increasing patrolling,  hold meetings with women's NGOs and quick response teams be set up to deal with such situations, but nothing happened.  
On Delhi govt's announcement that it was going to instal cctv cameras inside DTC buses, Irani pointed out that the plan was mooted long ago but never cleared. There has been a 120 per cent increase in the number of cases of sexual harassment in the capital, she said.  
MP Ram Jethmalani called for the exit of Delhi Police Commissioner Neeraj Kumar and said they (culprits) have convinced themselves that the investigating agencies are totally incompetent and unworthy of their posts.
"The late Lal Bahadur Shastri set an example of democratic responsibility by holding that somebody's  head should roll. He himself resigned after a train mishap. I am not asking the Home Minister to quit. He is a good man. but, today, believe you me, the head of the present police commissioner must roll", Jethmalani said.