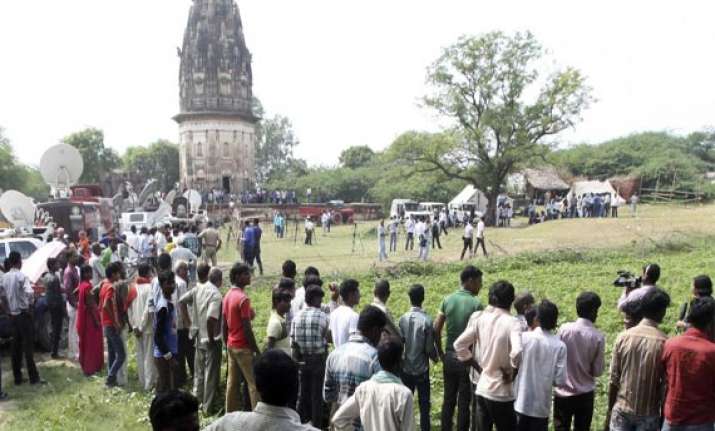 Fatehpur (UP): The hunt for 1,000 tonnes of gold in Daundiya Kheda in Unnao district by the Archaeological Survey of India, has triggered a frenzied gold hunt in neighbouring Fatehpur district, where vandals and tantriks have so far dug up nearly 300 sq metres of ground, damaging Shiva idols and shiva lingams in the process.
The state government has now deployed PAC jawans to guard the site in Adampur of Fatehpur district, where according to a disciple of sadhu Sobhan Sarkar, nearly 2,500 tonnes of gold is supposed to have been hidden underground.
A large number of tantriks alongwith their supporters have descended on Adampur and have dug up more than nine places in search of gold.
These sorcerers and vandals have dug up five feet deep earth on their own in search of the gold treasure, but have failed so far.
As word spread that an ASI team will soon be inspecting sites in Adampur, the nightlong digging took pace, and by Saturday night, more than 300 square metres of area has been dug up in the backyard of the historic Shiv temple of Adampur.
The henchmen of tantriks even bashed up the two temple priests - Sant Mohan Das and his disciple Ram Dutt - while asking them about the clues to the hidden gold. Both of them were beaten black and blue.
Sadhu Sobhan Sarkar's confidante Swami Om had recently asked the Fatehpur district administration to start excavation for the elusive 2,500-tonne gold in Adampur. He had claimed that the treasure was close to the surface and "is visible to naked eyes".
The supposedly hidden gold treasure belongs to the ex-ruler of Rewa, who reportedly moved the booty to the fort he built near the ancient Shiva temple.
The Shiva temple, the old fort and the Shiv Chabutara (rock) are said to be the places, where tantriks have come in search of gold.