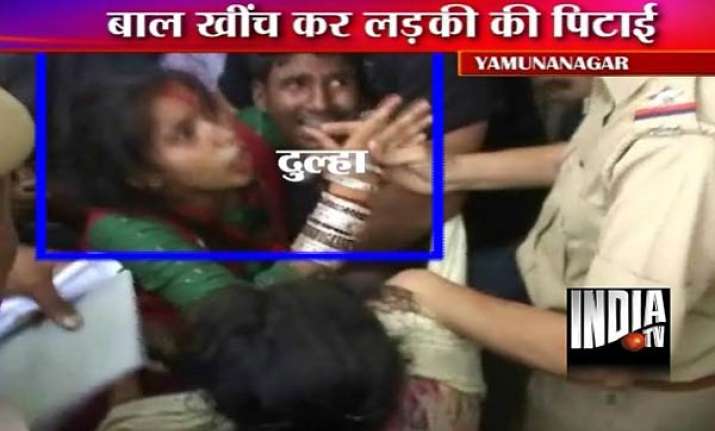 Yamunanagar, Haryana, May 31: Family members of an 18-year-old girl Sarabjit on Monday bashed up  her 25-year-old husband Manoj in the SSP office amidst a full-scale family drama.
 
The family members alleged that Manoj was already married and his wife was staying with her brother in Yamunanagar.
 
Manoj and Sarabjit fell in love in Sangrur, Punjab and the two sneaked in to Yamunanagar where they were married according to Arya Samaj rites two days ago. The two  later went to the district marriage registrar's office on Monday to get their marriage registered, when the girl's family came in.
 
The family members began thrashing the youth and tried to grab Sarabjit away from him. Amidst shouts and abuses, a large number of onlookers took both of them to the SSP office.
 
Police had a tough time controlling the girl's family members.   Nine members of the family, including Sarabjit's father and brother, have been arrested and a case under Sec 307 IPC has been registered.
 
Both Manoj and Sarabjit have been kept in a safehouse by the district police, keeping in view Punjab and Haryana High Court's direction to keep couples in safe houses to save them from 'honour killings'.