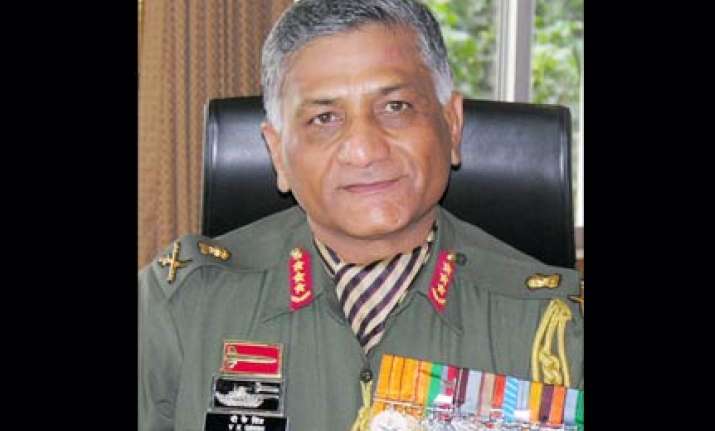 Gen V K Singh, the senior most infantry officer, was on Wednesday handed over charge of the Indian Army, the world's second largest, by outgoing chief Gen Deepak Kapoor and he will formally assume his new office on Thursday. 
He will be the first trained commando to take over as the Army Chief.
Gen Singh, who has vast experience in counter-insurgency operations and till lately was the GOC-in-C of Kolkata-based Eastern Command, was handed over charge by Gen Kapoor at a ceremony in the South Block here.
 Kapoor retired from the Army after over four decades of service and would formally cease to be the Army Chief at midnight tonight.
Singh, who picked up the four-star rank of General on Wednesday, will be the 26th chief and will stay at the helm of the 1.13 million personnel-strong Army for over two years.
The Defence Ministry had on January 23 issued the order appointing Singh for the top post after the Cabinet Committee on Appointments cleared his name a day earlier.
Singh was in the news recently when he recommended action against four General-ranked officers indicted by a probe in the Sukna land scam in Darjeeling district of West Bengal.
A third generation officer from the Rajput regiment, Singh had participated in the 1971 Bangladesh Liberation War as a young captain. He is a graduate of the Wellington-based Defence Services Staff College as well as the US Army War College at Carlisle. He also did a Rangers Course, a prestigious commando training, at Fort Benning in the US.
 The new Chief belongs to the Rajput Regiment just as Field Marshal K M Cariappa, the first Indian to become the Army Chief in 1949.
Singh was commissioned in the Rajput Regiment in June 1970 and commanded the same unit when it was positioned along the Line of Control with Pakistan.
Experienced in counter-insurgency, Line of Control and high altitude operations, Singh was awarded the Yudh Sena Medal for his distinguished service during 'Operation Pawan' against the LTTE in Sri Lanka.
Singh, who has seen action in the 1971 war, also served in the Military Operations Directorate at the Army Headquarters and was Brigadier General Staff of a Corps during 'Operation Parakram' when troops were mobilised on the border in the wake of the 2001 terror attack on Parliament.
He also commanded the Jalandhar-based 11 Corps and Ambala-based Strike Corps and was an instructor in the Indian Military Training Team (IMTRAT) headquarters in Bhutan.
Singh was awarded the Ati Vishisht Seva Medal (AVSM) for distinguished service while commanding a counter-insurgency force.
The General has a illustrious record in the Army for standing first in the Young Officers Course of Infantry and again being awarded the Commando Dagger for standing first in the Commando Course.