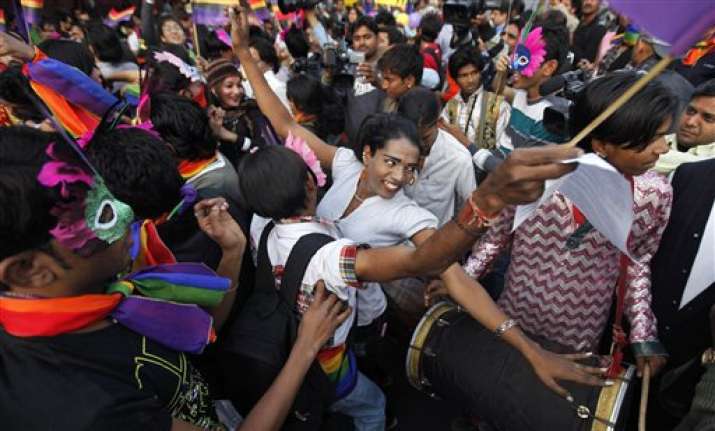 New Delhi, Nov 29 : Hundreds of people danced, sang and marched their way through central Delhi on Sunday as part of the third Gay Pride parade to take place in the city.
People belonging to the gay, lesbian, transgender and bisexual communities wore masks and colourful scarves and carried flags and signs demanding improved rights for their communities.
Social attitudes and even laws are beginning to change for gay people in India.
In 2009 the Delhi High Court struck down a law, Section 377 of the Indian Penal Code, that made sex between people of the same gender punishable by up to 10 years in prison.
The ruling has been challenged in the Supreme Court which is yet to give its verdict.
While actual criminal prosecutions were rare under the law, it was frequently used to threaten and harass people.
People in India who identify as gay, lesbian, transgender or bisexual have faced a long battle to gain acceptance in this deeply conservative country where even heterosexual sex is not often spoken about.
Taking part in the parade was photographer Sunil Gupta who said he felt the parade was more a party than a protest.
"It's a celebration of the fact that the community is here, and it's not a kind of complaining parade. I guess underneath it there is a kind of quiet demand for rights in various areas but today is really just about a celebration. We have survived, we are here and there's work to be done, we recognise that, but we should also be able to party," he said.
The Supreme Court ruling will be the final word on the issue and will be applicable all over India.
Activist Pramada Menon says taking part in the parade gives people a sense of community and identity.
"I think it's been important for the community for the first, over the last three years, to actually have a space where they could come out and actually be able to talk about who they are in whatever form that they wanted - whether they cover their face or not. But to feel a part of a larger set of people, who were like anybody else. But I think it's just being able to meet and connect with each other," she said.
Homosexuality is slowly gaining acceptance in some parts of India, especially in its big cities. The last two years have seen large gay pride parades in New Delhi and other big cities like Mumbai and Calcutta. AP