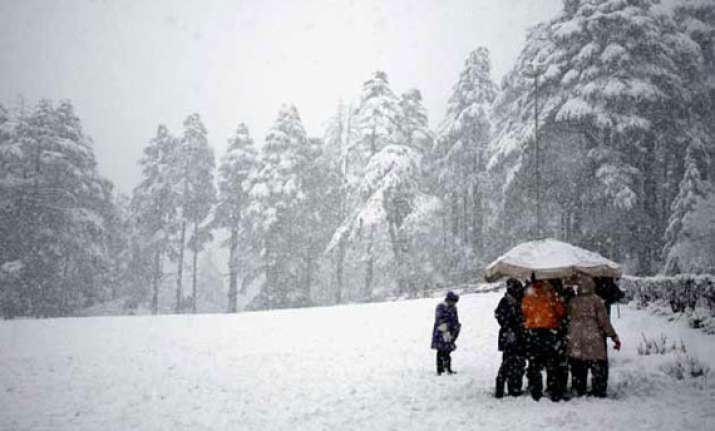 Srinagar/Jammu, Feb 23: Fresh snowfall in the mountains and incessant rains in the plains of Jammu and Kashmir forced authorities to close the Srinagar-Jammu highway for the second consecutive day Saturday. The weather is expected to improve by afternoon.
Moderate to heavy snowfall in the Pir Panjal mountain range and landslides at some places led to the closure of the highway. The road will be cleared after the weather improves, a traffic official in Srinagar said.
The Srinagar-Jammu highway is the landlocked Kasmir Valley's only road link to the rest of the country. All essential supplies are routed to the valley through this highway.
Shakeel Ahmad Beigh, deputy inspector general of traffic police in Jammu, said: "There are over half a dozen landslides and blockades from Ramban to Jawahar Tunnel where about 1,400 load carriers and a few passenger vehicles are stranded."
"There is snow accumulation on both sides of the Jawahar tunnel that will take some time to be cleared after it stops snowing," Beigh added.
Reports reaching here from north Kashmir's Sonamarg hill station said that two feet of fresh snow was recorded there during the night.
Districts like Kishtwar, Doda, Poonch, Rajouri, Bani and Bhaderwah were cut off as the entire region was lashed by heavy snow and rainfall accompanied by gusty winds. Many regions in plains also witnessed hail storm.
The inclement weather conditions have snapped telecommunication links and electricity supply in several parts of the state, officials in Jammu said.
"Snowfall and rain equivalent to 46 mm were recorded at Pahalgam, while 35 mm were recorded at Gulmarg.
"The minimum temperature was zero degrees Celsius in Srinagar today (Saturday). It was -1 degree Celsius in Pahalgam, -5.6 in Gulmarg, -5 in Leh and -11.2 degrees in Kargil town.
"The state has been experiencing inclement weather for the past two days owing to western disturbance, which has started weakening now. Weather would show signs of improvement from today (Saturday) afternoon," an official of the weather department in Srinagar said.
The official, however, added that another western disturbance is likely to arrive in the state Feb 27, leading to more snowfall and rains.
Western disturbances are extra tropical storms originating in the Mediterranean Sea that cause sudden rain or snowfall in India, Pakistan, Nepal and Bangladesh. The prospect of a better Rabi crop in the region depends heavily on it.