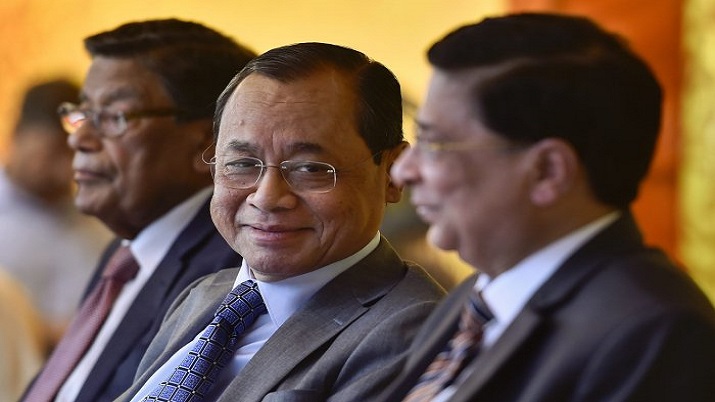 Former Chief Justice of India Ranjan Gogoi will take oath as Rajya Sabha MP at 11 AM on Thursday. Gogoi was nominated to the Rajya Sabha by President Ram Nath Kovind. A notification announcing his nomination to the Upper House was issued by the Ministry of Home Affairs on Monday night.
Gogoi, who headed benches that pronounced several key judgments including in the sensitive Ayodhya land dispute case, was on Monday nominated to Rajya Sabha by the government. Gogoi also led the benches that ruled on Rafale fighter jet deal and entry of women in Sabarimala temple. 
Justice Ranjan Gogoi was sworn in as the 46th Chief Justice of India in October 2018. He was appointed for a 13-month stint, and he took over from Justice Dipak Mishra.
A bench headed by Gogoi also ruled that Chief Justice Office falls under RTI but placed some riders. And, in another judgement, a bench headed by him in a majority judgement of 3:2 referred the Sabarimala temple judgement of 2018 to a larger bench. Justice Gogoi also pursued the Assam NRC, and tasked the authorities concerned to publish the final list before August 31, 2019.
In another politically sensitive judgment, a three-judge bench, headed by Gogoi, and comprising Justices S.K. Kaul and K.M. Joseph, on 14 November dismissed a review petition challenging the Rafale deal case. A bench headed by Gogoi also censured Congress leader Rahul Gandhi for wrongfully attributing the "Chowkidar chor hai" remark against Prime Minister Narendra Modi to the top court.
On his last working day Gogoi had said the judicial system is facing new challenges, which emerge from within and outside of court complexes and judicial processes.
(With agency inputs)
ALSO READ | President Kovind nominates Ranjan Gogoi to Rajya Sabha
ALSO READ | ​Who is Ranjan Gogoi? All you need to know about President's Rajya Sabha choice