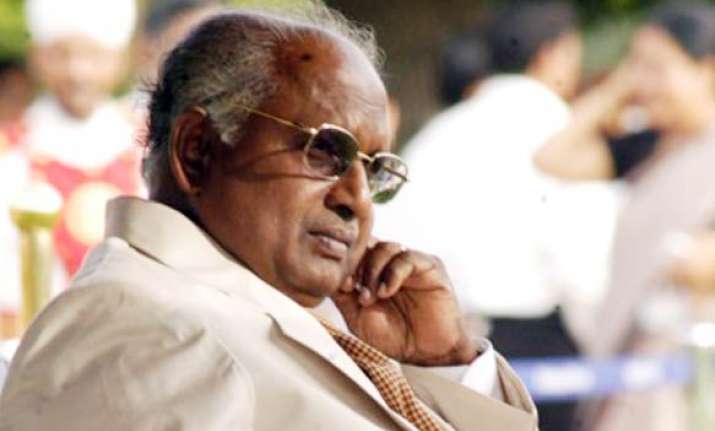 New Delhi, Feb 18: A PIL petition today raked up the issue of alleged amassing of wealth by former Chief Justice of India K G Balakrishnan and his relatives before the Supreme Court which sought from the Attorney General the status of an earlier similar complaint seeking a CBI probe.
The court asked Attorney General G E Vahanvati to convey to it the progress on the complaint filed last year in which allegations were made against Balakrishnan, his brother, son, son-in-laws and daughter-in-laws of accumulating financial assets after he assumed the office of CJI.
"What is the status of the complaint forwarded to the Ministry of Home Affairs?," a bench headed by Chief Justice S H Kapadia sought to know while hearing a PIL filed by advocate M L Sharma seeking judicial enquiry into the alleged disproportionate assets of the former CJI.
The court made it clear that it will adjourn the matter and wait till the Attorney General comes out with the status of the complaint which was filed on May 5 last before the Vice President and forwarded to the Ministry of Home Affairs.
"We will adjourn the matter. We don't want to go by this petition because much is to be desired as far as pleadings are concerned in this petition," the bench, also comprising justices K S Radhakrishnan and Swatanter Kumar, said while asking Vahanvati to answer its query within two weeks.
The complaint was filed by a Delhi-based journalist M Furkan seeking a CBI probe into the assets of Balakrishnan and his family members.
The copy of the complaint was sent to Justice Kapadia, who had by then been designated to assume the office of CJI after Balakrishnan's retirement on May 12, 2010.
A similar complaint was also filed before the President on May 4 last year and copies were sent to several people including the Prime Minister and UPA chairperson Sonia Gandhi.
The Vice President had referred the complaint to the Home Ministry "for appropriate attention".
Balakrishnan served in the apex court for 10 years since his appointment as the judge on June 8, 2000 and became the CJI on January 14, 2007.
The complainant had also demanded that Balakrishnan should not be appointed as the Chief of National Human Rights Commission (NHRC), a post he is holding now now.
The apex court has taken note of the complaint when the Income Tax has begun a preliminary enquiry into the allegations of amassing of wealth by his family members.
Sources in the IT department had reportedly said a 'preliminary enquiry' was on.
In the complaint filed by the journalist, specific allegations have been made against Balakrishnan's son Pradeep, his son-in-laws P V Sreenijin, Benny and daughter-in-laws Soni and Rani.
The complaint also spoke about allegations against Balakrishna's younger brother K G Bhaskaran, who resigned as a Government Pleader in Kerala High Court following charges of corruption against him.
The Kerala government has ordered a vigilance probe against Sreenijan and various lawyers associations have also demanded that Justice Balakrishnan should resign and face probe to clear his name. PTI