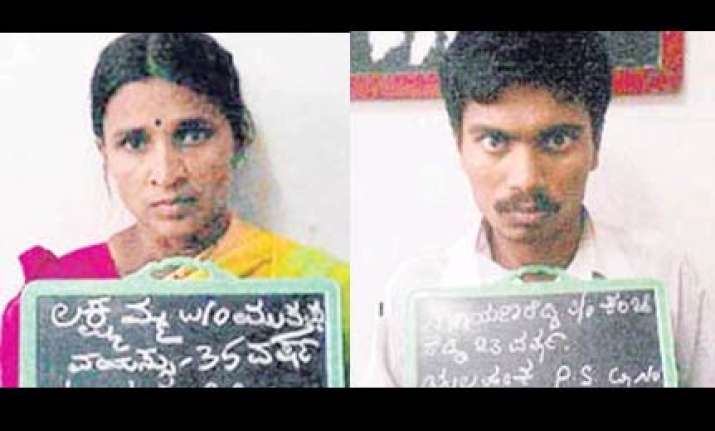 In a twisted tale of love and lust, a 40-year-old woman and her 23 year-old-boyfriend in Bangalore murdered a youth " just so that they can continue their secret relationship, reports Mid Day.
Laxamma M of Sarjapur, a widow, had been employed as a maid at the Rohan Vasant Apartments at Marathalli since 2008.
The same year, she started having an affair with K Narayana Reddy, who was employed at  a guest house in the same apartment complex.
Because of their age difference, residents never suspected anything brewing between the two.
But realising that it would become difficult to conceal their relationship for long, both started thinking of ways to keep it a secret while still managing to be together.
Accordingly, Laxamma decided to work towards getting Mallika (20), her employer's daughter, married to Reddy.
Laxamma introduced Reddy to Mallika. The trio started going to cinemas and shopping.
Mallika's parents didn't suspect anything because Laxamma was their maid. This continued for six months.
On one such outing, Laxamma suggested that Mallika marry Reddy, to which Mallika flatly refused.
On May 16, Mallika got engaged to Krishna Kumar (25), a civil contractor from Yelahanka, which infuriated the duo. They decided to murder Kumar, as they believed this would lead to Mallika eventually marrying Reddy.
Reddy befriended Kumar and offered him a contract at Kolar. Laxamma  and Reddy accompanied him to Kolar on the pretext of showing him a site. After reaching the place, Reddy and Kumar had a few drinks.
Then Reddy took Kumar to Alepalli forest in Chitoor district of Andhra Pradesh, where he slit his throat and threw the body in a stream. He then returned to Marathalli with Laxamma and they resumed their respective jobs.
When Kumar didn't return, his father filed a complaint with the Yelahanka police. The police tracked Kumar's mobile phone records from the day he had gone missing, which led to the couple on August 2.
Yelahanka Police Inspector E Kenchegouda said, "They committed this heinous crime just to continue their relationship. We have sent them to judicial custody."