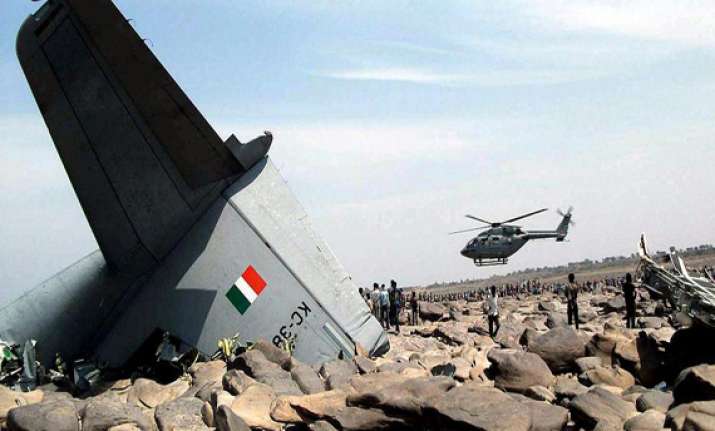 New Delhi: Flying too close behind the lead plane may have resulted in the crash of the C-130J Super Hercules transport aircraft that went down last month near Gwalior killing all five personnel on board.  The C-130J aircraft had crashed on March 28 when it was performing a low flying exercise with another aircraft.  
Preliminary findings have suggested that the aircraft could have crashed while flying too close to the lead aircraft and could have lost its controls due to the turbulence created by the front aircraft, sources said here.  The aircraft had crashed suddenly during flight and could not even communicate the emergency faced by it with the ground control stations, they said.
IAF spokesperson, however, refused to comment on the issue saying an inquiry was being conducted by the force into the matter. An Air Commodore-rank officer is heading a Court of Inquiry into the crash.
The IAF had sent the damaged blackbox of the aircraft to the United States for decoding data and the US firm Lockheed Martin has sent the information back to India.  The aircraft had apparently hit a hillock before crashing on the rocky surface on the banks of Chambal river.  
India had recently inducted six C-130J Super Hercules aircraft, which were bought from the US at a cost of around Rs 5,780 crore (USD 962 million) four years ago.  The home base of the 77 squadron 'Veiled Vipers' operating the aircraft is Hindon in Ghaziabad near here.  The aircraft were recently landed on the Daulat Beg Oldie air field near the China border and have helped in boosting the IAF's capability to airlift troops closer to the border in times of emergency.
On the demands of the IAF, the defence ministry recently placed orders for six more such aircraft from the US.  The loss of such a big asset is considered a setback for the IAF.