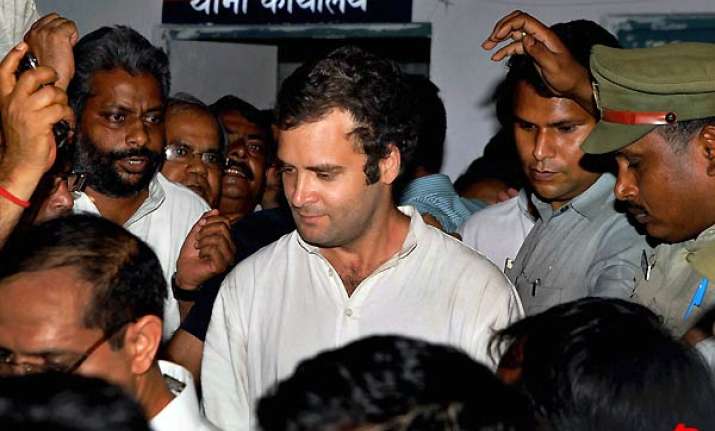 New Delhi/Lucknow, May 17 : Upping the ante on the issue of land acquisition in Uttar Pradesh Congress leader Rahul Gandhi on Monday evening  met Prime Minister Manmohan Singh here and complained to him about alleged "rape" of women" and "murder" of farmers in Mayawati-ruled state but BSP denied the charges.
Congress demanded a judicial inquiry saying "grave allegations have been made but BSP dismissed the charges as "baseless".
Gandhi, who led an eight-member delegation to Singhm, alleged later that huge heaps of ash carrying burnt bodies have been found in the villages where farmers were agitating for better compensation for their land acquired by Maaywati government.
Gandhi also showed the Prime Minister pictures purportedly of bodies burnt and other forms of violence against farmers and their family members.
"The issue here is a more fundamental one with regard to these villages in particular and a large number of villages in UP all down the Agra highway, where state repression is being used, where people are being murdered.
"Quite severe atrocities taking place there....There is a set of large 74 heaps of ash there with dead bodies inside.  Everybody in the village knows it. We can give you pictures.  Women have been raped, people have been thrashed. Houses have been destroyed," Gandhi told reporters.
The AICC general secretary said he was "very concerned" about what was going on in the villages there and facilitated the meeting of farmers with the Prime Minister so that they can put forward their views and the PM listened to it.  It was a delegation of eight persons.
To a question why the Centre is yet to amend the Land Acquisition Act even as he had met the Prime Minister even last year with the same demand, Gandhi said it was taking time as the legislation was a complex one.
"We are committed to it and realize that it is a complex piece of legislation. And that is why it is taking some time", Gandhi said adding the issue was a larger one.
"What I am concerned about how we are treating our people. Most of the people (farmers) said that they are more than happy to give their land for development. They said if a road is being built, they have no problem.
"Most poor people want development in the country and they are ready for the sacrifice. The question is how we treat those poor people. Do we treat them fairly or do we brutalize them? And that is why I brought these people to the PM because after all they are Indian people and we have to look after their interests as well," Gandhi said.
BSP dubbed Rahul's meeting the Prime Minister Minsiter with the farmers of Bhatta Parsaul near Greater Noida as another instance of Congress' "indulging in petty politics" and dismissed as "baseless" the allegation that a large number of lives were lost and women raped in Bhatta Parasul near Greater Noida.
BSP asked Congress to stop indulging in "petty politics of spreading rumours".
Terming as baseless the allegations of Congress that a large number of lives were lost in Bhatta Parsaul and women raped , a BSP spokesman alleged in Lucknow that Congress has been playing such political drama in Uttar Pradesh to regain its lost ground and Rahul Gandhi's meeting the PM was "another such attempt".
Congress, on the other hand, demanded a judicial probe into the charges of rape of women and murder of farmers.
"What we are asking for is a judicial inquiry...if there are grave allegations made, if there are charges where photographs have been produced, I don't understand what problem the UP government can possibly face in ordering a judicial inquiry", Congress spokesperson Jayanthi Natarajan said.
However, BSP leader Syed Kazim Ali Khan "it is yet to be determined if the photographs are genuine. What is the authenticity of the photographs, who these people are. 
Are they actually from the village? Are they from the state? Did they disappear? Were they murdered or did they die of natural causes? All this has to be determined". PTI