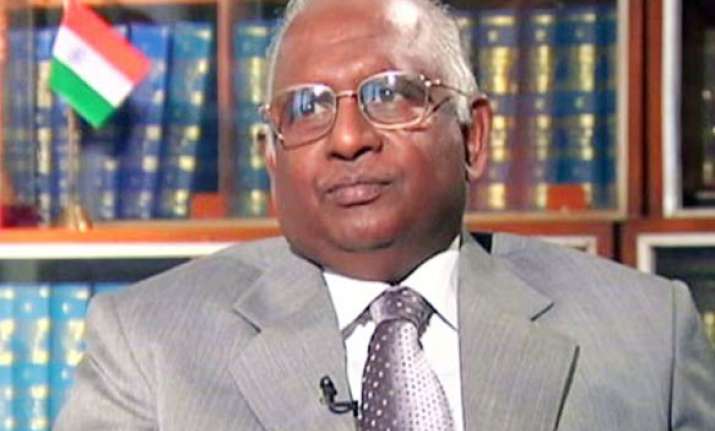 Kochi, Feb 26: In further embarrassment to former Chief Justice of India justice K G Balakrishnan, Income Tax authorities today said they have unearthed black money in possession of three of his relatives during their investigation into allegations of amassment of wealth by them.
"As far as Justice Balakrishnan is concerned, I cannot say anything. But as far as his relatives-- two sons-in-law and brother are concerned, we have found there is black money", Director General of Income Tax (Investigation), Kochi, E T Lukose, told reporters here.
Justice Balakrishnan's  sons-in-law P V Sreenijan and M J Benny, both advocates, and brother K G Bhaskaran, former Special government Pleader, have been found to be possessing black money, he said.
"We are investigating how they have got the black money. We will again question the relatives", he said.
The official refused to state the quantum of black money with the three relatives of Justice Balakrishnan who is the Chairman of National Human Rights Commission.
Lukose refused to say whether Justice Balakrishnan will be questioned or not. "I cannot say anything now", he said.
The I-T investigation covered the last five years, he said adding the probe was in the final stages and likely to be completed by next month.
"The central government has so far not asked us -- the IT investigation wing -- for any report," he said.
The investigation wing had at first conducted a preliminary inquiry into the allegations of amassment of wealth against the relatives of Justice Balakrishnan.
After the allegations came to the fore, Bhaskaran had resigned as special government pleader of Kerala High Court citing health reasons.
Sreenijan, who had unsuccesfully contested the assembly polls as a Congress candidate, had quit Youth Congress after facing the charges. He is also facing a vigilance probe.
Media reports had alleged that Bhaskaran, Sreenijan and Benny had allegedly amassed wealth disproportionate to known sources of their income when Balakrishanan was the Chief Justice of India, drawing demands from various quarters, including advocates associations, for his resignation as NHRC chief. PTI