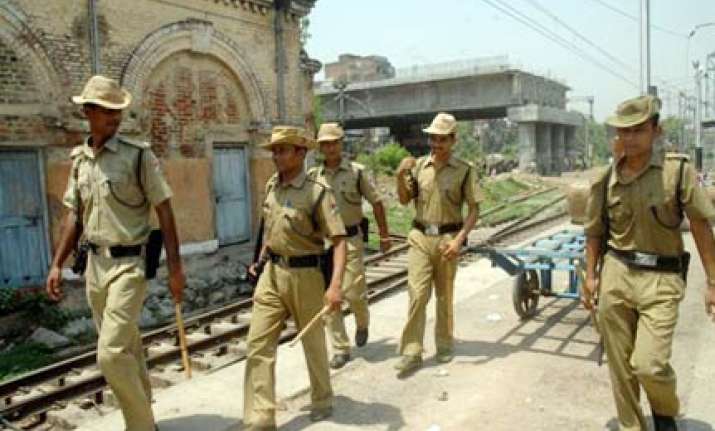 Lakhisarai: Eight policemen were killed and 10 injured during a fierce encounter with Maoists, who kidnapped three security personnel and decamped with 35 of their rifles in Lakhisarai district.
 Among those killed in the encounter on Sunday were six Bihar Military Police personnel, the Officer-in-Charge of Kawaiya police outpost Bhulan Yadav, and a policeman, Superintendent of Police Ashok Kumar Singh told PTI from the spot. 
Singh, who trekked to the hilly spot leading a team comprising BMP, State Auxiliary Force and CRPF, found the eight bodies.  The bodies would be airlifted for post-mortem before being handed over to their families, he said. 
The SP said three policemen were missing after the encounter and it was believed that the Maoists took them away.  A helicopter was making an aerial survey to locate the missing personnel, he said.  The Maoists had opened fire at team of CRPF, BMP and SAP personnel during a combing operation at Ramtalnagar village under Kajtra police station in the district, Singh said.  The Maoists fled after the encounter. The entire area had been cordoned off, he said.
The Maoists looted 35 rifles and several magazines from the security personnel, IG (Operation) K S Dwivedi said.  Many Maoists were believed to have been injured in the encounter, but were dragged away by colleagues, Dwivedi said.  Ten BMP and SAP personnel were injured in the encounter. Seven of then admitted to Patna Medical College and Hospital where their condition was stated to be out of danger, officials said.
Chief Minister Nitish Kumar visited the Patna Medical College Hospital in Patna to meet the injured policemen.
Kumar announced that besides ex-gratia payment of Rs ten lakh, Rs 13 lakh would be provided under the insurance scheme to each of the slain policemen.
He said the state government had decided to frame a policy and provide compensation of Rs 50,000 to those with minor injuries, while Rs one lakh to Rs three lakh would be paid to those critically wounded in the operations against Maoists.
Kumar said he had directed Director General of Police Neelmani to visit the spot and make a detailed assessment so that fool-proof measures could be taken in operations against Maoists.
 The Chief Minister said that the problem lying at the root of the Maoist menace has to be resolved at the earliest.
 "The pace of development has to be accelerated and corruption removed in execution of development schemes to uproot Naxalism," Kumar said.
 Meanwhile, Tariyani Block Development Officer Manoj Singh, who was kidnapped by Maoists from Ladhoura village was yet to be traced, Neelmani said.
 A police team led by IG (Muzaffarpur) Gupteshwar Pandey was searching for him, he said, adding other two missing persons had returned home.
 Maoists on motorcycles had intercepted the BDO's vehicle and took him away, he said.
 Another report from naxal-hit Gaya district said a road construction mixing plant was bombed by Maoists under Mufassil police station area last night. PTI