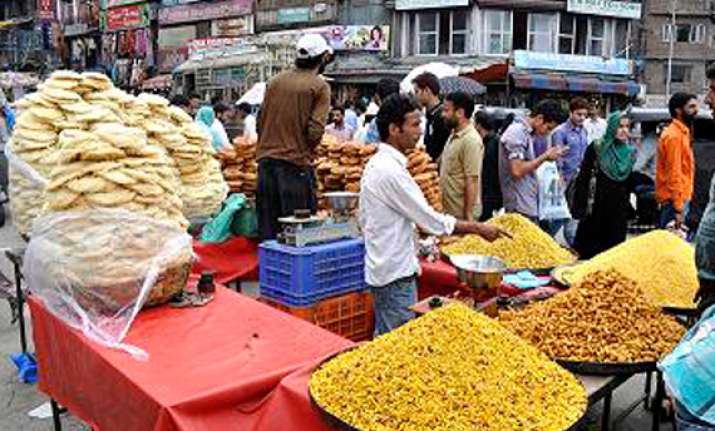 Srinagar, Aug 29 :  Markets across the Kashmir Valley, including summer capital Srinagar, wore a festive look today as people came out in large numbers to shop for Eid-ul-Fitr festival to be celebrated later this week. 
Bakeries, confectioneries, toy shops witnessed a heavy rush of customers as Muslims started preparing for the two-day Eid festival which marks the culmination of fasting month of Ramadan.

Eid will be celebrated on Wednesday or Thursday, depending on the appearance of crescent as Muslims follow the lunar calendar.

Shopping outlets selling clothes, perfumes and footwear also saw brisk sales from early in the morning.  The heavy rush has brought smiles to the faces of the business community in the Valley which had suffered massive losses during last year's summer unrest.

"I had no sales last year due to the frequent strikes and curfew. But, touchwood, the business is good this year and (I)hope to make up for some of the losses incurred last year," Aashiq Ahmad, a businessman in Lal Chowk area of the city, said.

The roadside vendors have also set up stalls in Lal Chowk and adjoining areas selling all kinds of merchandise.  Serpentine queues were witnessed at ATM outlets and banks as people withdrew more than Rs five crore during the weekend for EId shopping, sources in the banking industry said.
Learning from the experience of previous years, the traffic department has barred the entry of passenger vehicles into the commercial hub of Lal Chowk which used to lead to traffic jams.

"No vehicular traffic shall be allowed to ply on Residency Road from Radio Kashmir to Hari Singh High Street on one side and along MA Road from SRTC Crossing to Jehangir Chowk on the other side, except Emergency and on-duty vehicles," SP Traffic Maqsud-uz-Zaman said.

He said the restrictions shall remain in force Monday and Tuesday. "In case Eid is celebrated on Thursday, the restrictions will extend to Wednesday also," he said. PTI