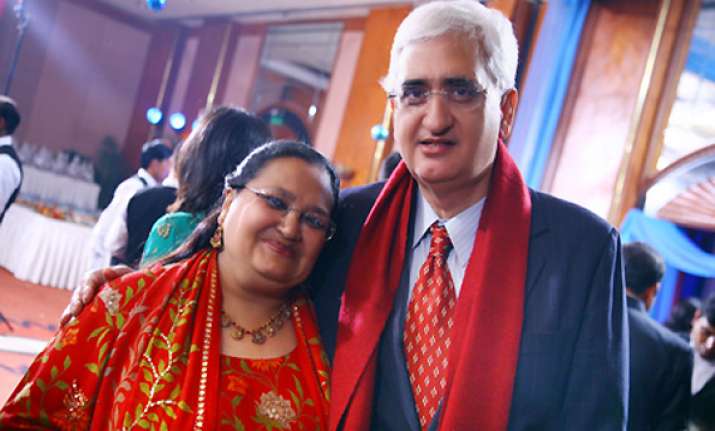 New Delhi/Lucknow, Jan 10: The Election Commission today issued a show cause notice to Law Minister Salman Khurshid asking him to reply in writing by January 12, A A BJP 5 pm  why action should not be taken against him for violating the Model Code of Conduct.

The notice was issued after the BJP complained to the commission alongwith newspaper clippings about the promise made by Khurshid while addressing a rally in Farrukhabad where his wife Louise Khurshid is contesting.

A BJP delegation led by Mukhtar Abbas Naqvi today met Chief Election Commissioner S Y Qureshi and demanded action against Khurshid for making the promise at an election meeting in support of his wife, Louise, accusing him of violating the Model Code of Conduct and Constitution.  Naqvi said seeking votes in the name of religion was a violation of election laws.

Canvassing for votes while pandering to religion and caste is barred under the Model Code of conduct. Similarly, no minister, either from the Centre or the state, can make any promise on behalf of the government during campaigning.

Acting on BJP's complaint and taking cognisance of the Law Minister's promise, the election authorities served a show-cause to his wife to explain within three days the statements made by her husband while campaigning in her favour.

Farrukhabad District Electoral Officer Sachchidanand Dubey told PTI that "a show cause notice has been served on Louise Khurshid by the Returning Officer for Farrukhabad Assembly constituency Ashok Kumar Lal".

The Law minister while campaigning in Farrukhabad had on Sunday promised to the electorate that if Congress is voted to power in the state it would enhance the sub-quota to Muslims to 9 per cent within the 27 per cent quota for Other Backward Classes (OBCs).