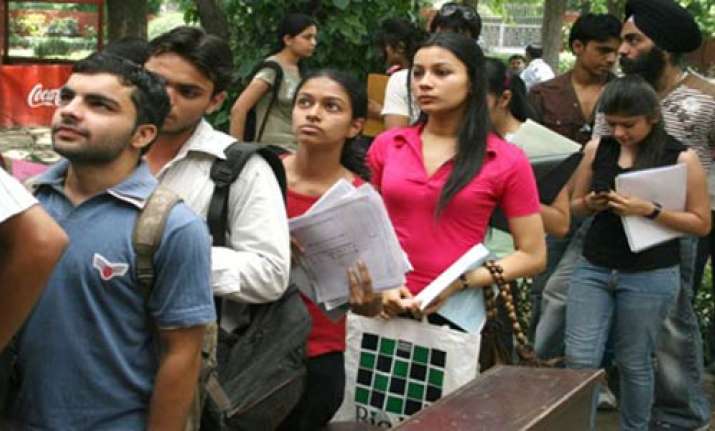 New Delhi, Apr 12:  Delhi University has changed its admission norms from the current  2011-12 session. It has done away with  the centralized OMR admission forms and has left it to the colleges to issue their own forms.
From this year, there will be no forms for applying to the various courses and colleges in Delhi University.
The admission process is set to go through a sea-change from 2011-12 session as DU is doing away with the current application process.Instead, colleges would be announcing cutoffs on the basis of their past experiences and students who have made the cutoff would be applying to the college of their choice.
The university is likely to notify the new system within the next two days while the cutoffs may be released only after June 15.Although the process appears simple at first look, several college principals visualized complications. They said cutoffs would now be done on guesswork and if a college didn't guess right, it would have to take in many more students than it can accommodate.
The ostensible reason for the new system is to save time and the time saved would be used to finish semester teaching. DU received around 1.2 lakh OMR (centralized) forms last year for a total of 54,000 undergraduate seats.

DU officials announced this decision to principals of its constituent colleges in a three-hour meeting held on the North Campus on Monday.DU V-C Dinesh Singh told Times of India after the meeting, "We will shortly announce a new process for applying to colleges which has been designed to ensure greater transparency and efficiency. Students will be put through far less trouble. Our decision will be notified in a couple of days."

Stunned principals raised doubts about the feasibility of the process, but DU officials assured that the process will save time and make it much easier for students.
"What can be the logic behind this decision? How should we calculate our cutoffs when we have no idea about the number or result of the students who will be coming to us for admission? University is just antagonizing the teacher even as the semester struggle is still on. They are probably trying to save on time for accommodating the semester schedule," said a principal from a college on the north campus.
However, DU officials insisted that the colleges can release their cutoffs based on their experience like they do always.
''They have been allowed to come out with up to five cutoff lists this time to fill their seats. Like every year, the cutoffs will be released by the university only. They will be available on the DU website, college notice boards, newspapers and even radio," said one of the officials."We will have a monitoring cell and the colleges should know that the university will come down heavily on them if they refuse admission to an eligible student," Dinesh Singh added.

He added that colleges won't be allowed to keep any unnecessary riders like scoring minimum marks in any specific subject to be eligible for admission besides meeting the cutoff. Despite these changes, the process of admission for SC/ST candidates will remain centralised like before. OBC candidates, however, will have separate cutoffs."This system is for the welfare of students," the vice chancellor insisted.