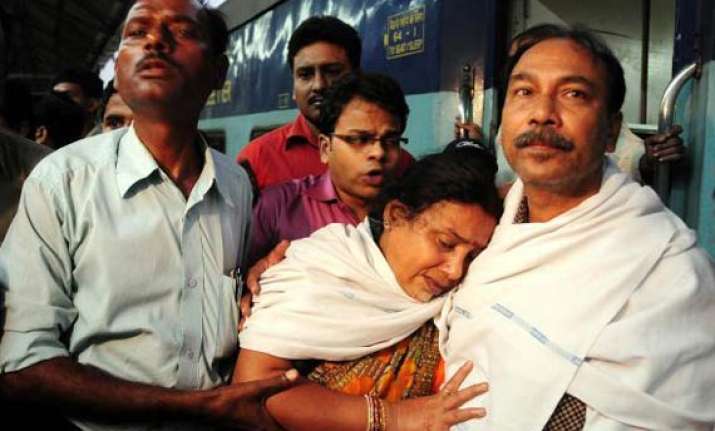 Kolkata, Nov 23: Chhedi Shaw, a survivor of the fire tragedy on Howrah-Dehra Dun Doon Express said on Tuesday  showing his scorched fingers that he saw a woman in flames right in front of him, reports The Hindu.

57-year-old Minati Sarkar is horrified at the prospect of ever boarding a train again. "Oh! not again," she exclaimed.

Sarkar, who along with three family members, was going for a vacation to Haridwar, jumped off the air-conditioned B1 coach, smashing her chin and sustaining injuries in lower limbs.

But more than her injuries, she was stunned by what she had to face during the journey.

"I heard voices of kids in the compartment shouting maa, maa [mother, mother]. Two young men tried to save the kids but they could not…There was another man crying for help," she toldThe Hindu while being  given first aid at the Howrah station in the afternoon, shortly after the train carrying 11 injured passengers arrived nearly 14 hours after the  inferno.

Sarkar, a resident of Raiganj in the State's North Dinajpur district, was woken by loud shouts and screams.

"Initially I thought it was dacoits, but then we heard screams of fire and a thick smoke engulfed the entire compartment. I could not understand which way to go," she said.

She said she and her family waited for four hours at the accident site before they could board the next train to reach the nearby Gomoh station.

"A woman was in flames in front of my eyes. I tried to save her," Chedi Shaw, another survivor said, showing his scorched fingers.

"The passengers we treated have simple injuries but are suffering from psychological shock and mental agony," said Dr. A.K. Saha, Chief Health Director of Howrah, who attended on the injured at the station.

Sunil Ranka and his wife Lakhi Ranka, residents of Contai in State's East Midnapore district, lost all their belongings.

"We were in the B1 coach. When the fire occurred, we ran to B2 and then to B3 then we jumped off the train," said Mr. Ranka who managed to reach the Howrah station with his wife on their own at 11.30 in the morning.

Amid all this, there were some who were desperately searching for or awaiting news of their relatives and acquaintances late into the evening.