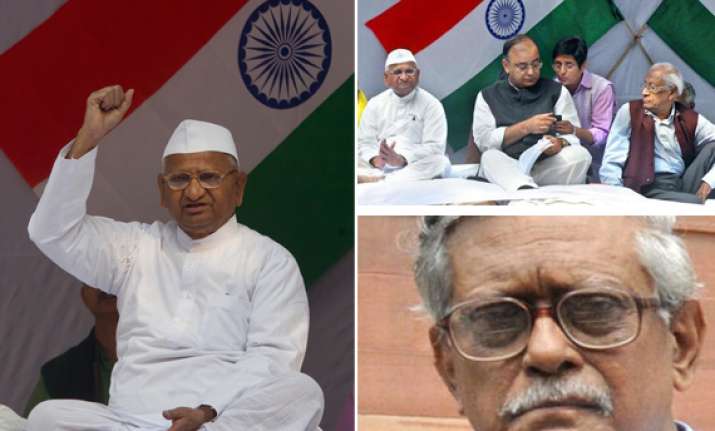 New Delhi, Dec 22: Anna Hazare came under attack in Lok Sabha today with members saying he should not pretend to be another Father of the Nation and asking the government not to succumb to his threat of agitation.

"We represent the country. There is one person who aspires to be the second Father of the Nation. There is only one Father of the Nation," CPI leader Gurudas Dasgupta said in an apparent reference to Hazare, prompting thumping of desks by members, including by UPA Chairperson Sonia Gandhi.

"Let nobody pretend to be the sole crusader against corruption," he said, adding his party, as also others, wanted an end to corruption.

During a short debate at the time of introduction of the Lokpal Bill, Dasgupta told the government, "Please don't be afraid of agitation. .... Don't surrender sovereignty of Parliament."

His remarks came after Leader of the House Pranab Mukherjee said Hazare had led an agitation earlier and has threatened to launch another one soon.

Hitting out at Anna Hazare and his team, RJD chief Lalu Prasad said, "three-four people cannot dictate to Parliament.  ... Parliament cannot be run from the footpath. We are the lawmakers."

Taking a dig at Hazare's threats of hunger-strike, he said "if someone goes on fast for the benefit of his health, what do we have to do with it?"

Prasad also had a word of advice for Hazare, saying he should pay attention to his health.

Leader of the House Pranab Mukherjee reminded the CPI leader Gurudas Dasgupta that it would be better if he advised his own party leaders about refraining from joining Anna Hazare at his place of fast.