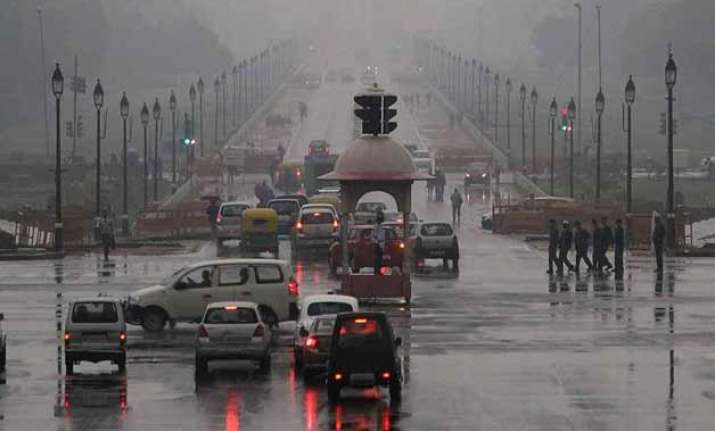 New Delhi: Disturbances in west could bring more rain in many parts of the country in the next few days, the India Meterological Department (IMD) has said. The month has seen high level of rain which is highly unprecedented.
The national capital is also expected to witness partly cloudy skies with possibility of rain or thunderstorms till Monday. The city has already recorded the wettest March in the last five years.
The head of IMD's weather forecast division, BP Yadav, told a leading daily that there can be scattered rains and thundershowers over many parts of the country. Thunderstorms accompanied with isolated hailstorms will occur over Himachal Pradesh, Uttarakhand, Punjab, Haryana, Chandigarh and Delhi, Rajasthan, Uttar Pradesh, Madhya Pradesh, Vidarbha, Central Maharashtra and Marathawada.
According to IMD, rain and snow may occur at isolated places over Jammu & Kashmir and Himachal Pradesh on Sunday. Some places of Punjab, Tamil Nadu, Pudducherry and Kerala may also see heavy rain.
The reason behind this kind of weather in the country is the result of an upper air cyclonic circulation over Iran and adjoining Afghanistan and Pakistan extending upto 7.6 km above mean sea level persists. "The induced upper air cyclonic circulation over south Pakistan and neighbourhood also persists which may descend to surface as a low pressure area during the next 24 hours," Yadav said.
The rain and thunderstorm activity over northwest, central and east India may see a considerable decrease from March 18.
The heavy rain in March has caused a lot of trouble for the farmers in the country especially in North India. Crops of wheat, mustard, sugarcane and mango have suffred heavy loss.
Experts say farmers should go for early harvesting of mature crops, wherever possible, to prevent further loss. . "Irrigation channels should be cleared so that there is no inundation of water in the field. All farmers should inspect their plants and uproot damaged fruit crops. Wherever the plant is lodged, efforts should be made to give it mechanical support and make it stand," said N Chattopadhyay, deputy director general, Agricultural Meteorology Division, IMD, Pune.