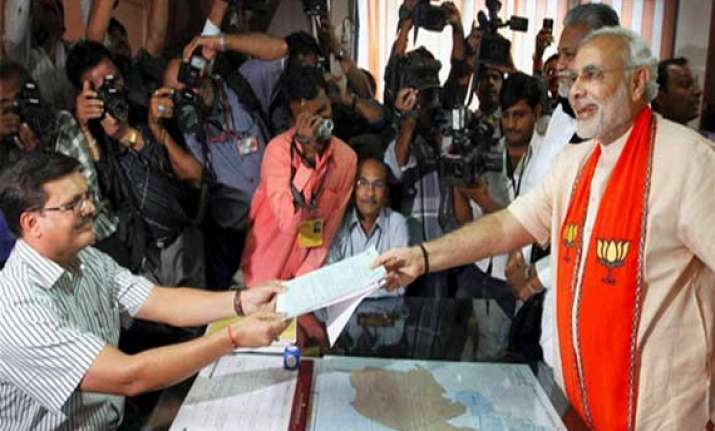 New Delhi:  Pandits and priests are amazed over the fact that BJP's Prime Ministerial candidate Narendra Modi chose April 24 to file his nomination papers in Varanasi.
He did not think twice before choosing a relatively inauspicious day. Three weeks prior to that, there were discussions about the pros and cons of the muhurat during the nomination.
But Modi did not pay heed. He even wore a white kurta-pyjama, which, according to astrologers, can be inauspicious.
According to Indian astrology, one Hindu "tithi" (date) comprises two "karna". Of these two, the presence of Vishti karna in any time period of any date is known as "bhadra".
Similarly, there are two "paksha" (fortnights) in the Hindu calendar — the Shukla paksha and Krishna paksha. The bhadra occurs four times in a paksha of the month.
According to a city based well-known priest and astrologer, "Bhadra Kaal" falls on April 24, which is inauspicious for making any new beginning.
"Bhadra kaal" is inauspicious in Hindu calendar, and it is also known as "Vishti Karana" in Malayalam.
On April 24, it begins at 8.50 in the morning and ends at 7.44.pm, but it is in this period that Modi filed his papers.
"The auspicious dates for filing nominations were April 17, 20 and 22, but the Gujarati pandits apparently advised Modi differently, and he trusts them," said the priest.
He says the only way to counter the ill-effects of "Bhadra Kaal" is to hold a Maha Mritunjaya Jaap.
But other astrologers had a different perspective: "Gujarat residents follow the calendar which is based on the transit of moon while we follow the one based on the sun. On April 24, they had the date of dashami of the Chaitra month and Krishna paksh which is considered very auspicious."