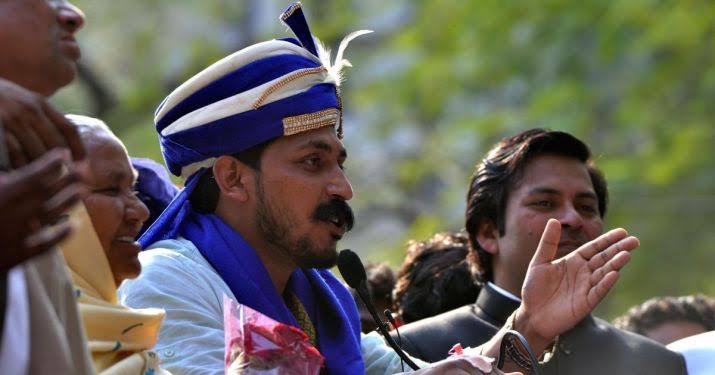 Bhim Army chief Chandrashekhar Azad, who was on Sunday detained in Hyderabad while he was on his way to take part in an anti-CAA and NRC event, has now been sent to Delhi. The Dalit leader was in the city to address a gathering on Citizenship Amendment Act, National Register of Citizens
and National Population Register.
Azad was sent back to Delhi in an early morning flight from Hyderabad. 
Police said they had not granted permission for the programme to be held. Azad's detention comes days after he was released from Tihar prison in Delhi following his arrest for allegedly inciting people during an anti-CAA protest. 
तेलंगाना में तानाशाही चरम पर है लोगों के विरोध प्रदर्शन करने के अधिकार को छीना जा रहा है पहले हमारे लोगों को लाठियां मारी गई फिर मुझे गिरफ्तार कर लिया गया,अब मुझे एयरपोर्ट ले आएं है दिल्ली भेज रहे है। @TelanganaCMO याद रखे बहुजन समाज इस अपमान को कभी नही भूलेगा। जल्द वापिस आऊंगा

— Chandra Shekhar Aazad (@BhimArmyChief) January 27, 2020
Azad was arrested after he tried to reach to Crystal garden meeting venue at Tolichowki. It is said that Prior Police permission was not taken by organisers for the meeting.
Earlier today, the Bhim Army Chief had tweeted that female students from TISS were being harassed at the Police station.
"I am at TISS Hyderabad. Since last night, female students and sitting at a police station and they are being harassed. @rachakondacop should immediately come here otherwise we will surround the station," Azad had tweeted. 
ALSO READ: Matter entirely internal: India snubs EU Parliament over anti-CAA resolution
ALSO READ: Bhim Army chief Chandra Shekhar Azad to visit CAA protesters at Lucknow Clock Tower