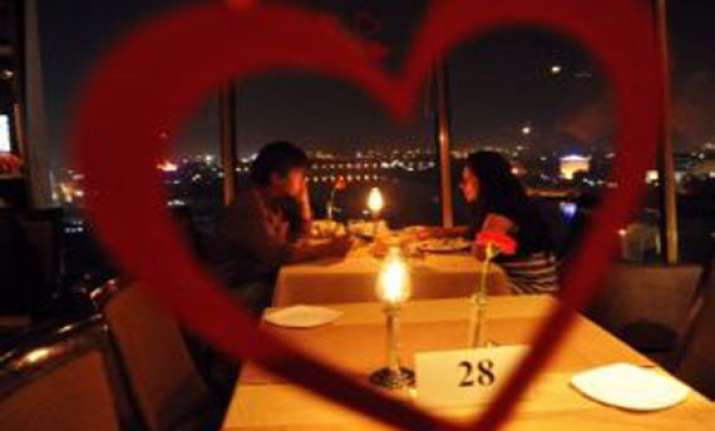 New Delhi, Feb 14 :  Romance was in the air as malls, restaurants and popular hangout zones in the city soaked in the colour red with the young and old displaying their affection for their loved ones in many ways on Valentines day today, unfazed by antics of those who oppose it.
Cupid struck couples exchanged gifts, roses and thronged cinema halls and other popular hangouts. While florists worked through the night preparing heart-shaped bouquets for the day, gift shops and restaurants prepared special deals and packages. SPAs and salons are also offering pampering sessions for couples on discounted prices.
Red, the colour of love, was the theme at many restaurants and eating joints which have made special arrangements for youngsters, who were seen making a beeline for these outlets.
"We have a four-course food package keeping couples in mind. Food items have been named 'Scarlett and Butler', Casablanca, Te-amo, while drinks include 'aphrodite ghetto', 'Love Fool', 'Blushing Lady', 'Nectar', 'First Love', 'Dark Seduction' specially named for this day," Chef Jiten Singh of Amour the Patio restaurant in Hauz Khas village said.
"Chocolates, strawberries and other such aphrodisiac food items dominate the menu today," he added. As the demand for roses increased, the prices too skyrocketed as florists work through the night preparing special bouquets and offering special flower packages including cakes, chocolates and soft-toys.
"Roses cost Rs 50 today, and on regular days it costs between Rs 20-30. Lillies cost between Rs 100 to Rs 200," Praveen, a florist in South Delhi said. Websites offering bouquets and packages including chocolates, stuff toys, gift items, chocolate cakes for Rs 1,000 to Rs 3,000.
Police had made elaborate arrangements to thwart any untoward incidents take place, including attempt of moral policing in the city by right-wing outfits.
The Vishwa Hindu Parishad, which is opposed to Valentine's Day celebrations, said it will not prevent anybody from celebrating it. However, it said young people should behave properly.
The right wing Hindu organisation also started a helpline (011-23616372) to offer help to women in distress. Some leading online portals like Snapdeal, Fashion and You, Jabonng, Myntra are offering deals on clothes, jewellry, costmetics, and shoes, keeping couples in mind.
While hi-end restaurants claim they are chock-a-block for lunch and dinner, a huge crowd of couples was seen at Central Park in CP, one of the hangout zones in Delhi.
Chithra, a Political Science (Hons) student from DU said, "Most of the people are wearing red in college. We see so many couples hanging around hand-in hand unlike most other days.
You can truly say love is in the air!" Her friend Bhavna said "you don't need a particular day to tell someone you love, it's a feeling we all must incorporate in our lives every single day".
An advertising professional, Akshay's day was made special while working. "We got a rose and chocolate from office wishing us a happy Valentine's day. It was very special," he said.
The day also saw some innovative marketing with number of clothing brands giving 'buy-one get-one' offer.
Mumbai :  That he belongs to a party which has often slammed Valentine's Day celebrations, did not come in the way of a local Shiv Sena corporator who entered into wedlock on Valentine's Day here today.
Corporator from Borivli, Abhishek Ghosalkar, son of party MLA Vinod Ghosalkar, tied the knot with Tejasvee Darekar, an IT professional, in suburban Borivli this
afternoon.
"This is an arranged marriage...The mahurat was good and so it happened that we are getting married on Valentine's Day," Abhishek told reporters here.
The Sena MLA apparently zeroed in on February 14 for his son's wedding as it was Basant Panchami and an auspicious day, according to the Hindu calendar.
"This has nothing to do with Valentine's Day. The wedding took place as per the auspicious mahurat," a Sena functionary from Borivli said.
A few years ago, Shiv Sena carried out several protests and agitations against Valentine's Day celebrations and attacked couples and vandalised shops selling cards and bouquets.