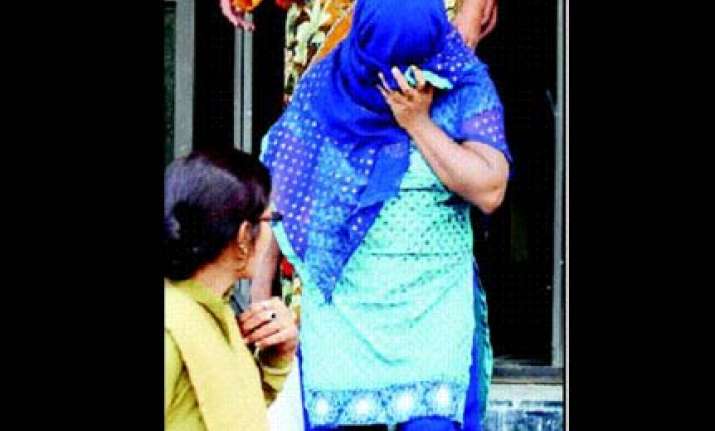 New Delhi: Delhi police arrewsted a man and a woman on Saturday while selling complimentary Commonwealth Games tickets in the blackmarket. They were caught oustide Siri Fort complex and Jawaharlal Nehru stadiums respectively.The woman said the tickets were originally meant to be given to schoolchildren and the man turned out to be associated with the OC, reports TOI.  
Meanwhile, a TOI reporter encountered a tout outside the R K Khanna Stadium. The tout wore a Games accreditation card. CGF chief Mike Fennell, has ordered an inquiry into the entire issue because tickets still remain unavailable.
If the stadiums were jampacked, you would have considered buying tickets in black a measure of the success of Commonwealth Games. But when 'sold out' events turn out to be sparsely attended and yet there are touts offering you tickets, you can conclude that there is something rotten here.
On Saturday, Delhi Police arrested two persons, including a woman, from Jawaharlal Nehru Stadium and Siri Fort Stadium after allegedly catching them redhanded, selling complimentary tickets in black. Identified as Rekha (34), the woman is claimed to have told the police that she had sold 50 tickets of athletics on Thursday outside JLN Stadium. She was arrested outside Gate nos 14 and 15 of the stadium while trying to sell complimentary tickets right outside the ticket counter in black.
Rekha told the police that the tickets were meant for free distribution among students and were given to her by a teacher of a school in Moti Nagar, where she is also employed. The tickets, claimed the police, had been given to this teacher by the father of national level swimmer Richa Mishra. Richa's father had reportedly obtained the tickets from the organising committee (OC) and distributed them in several schools. DCP (south) HGS Dhaliwal claimed that no record of the complimentary tickets could be recovered from either the accused or the school authorities.
Ninety-six complimentary tickets were seized from Rekha. These were for track and field events and included 11 tickets of Rs 500 denomination, 45 tickets of Rs 250 denomination and 40 tickets of Rs 100 denomination. Rekha was selling the tickets at double the price. She had allegedly sold several tickets on Thursday. ''We are verifying her claim and trying to find out whether she has more tickets stashed away elsewhere,'' said a senior police officer.
National level swimmer Richa Mishra said she had no knowledge of the incident. ''My father teaches at the west Delhi school and he is not involved in any ticket case,'' she said. All efforts to speak to her father directly proved futile. A case of cheating has been registered at the Lodhi Colony police station. The arrest came following reports that tickets and complimentary passes were being sold in black market. The police is investigating the possibility of other persons being involved in the case.
 The second arrest came hours after the woman was arrested — a man identified as Sanjay Singhvi (28) was nabbed by cops outside Siri Fort. Singhvi is an honorary member of the OC and joined a few months back. The cops found 14 complimentary tickets in his possession which included nine of the hockey match between India and Pakistan and five of a squash match at Siri Fort. ''He also told us that he had sold two tickets on Friday. We are verifying the source of these tickets,'' said Dhaliwal.  
Singhvi is a resident of Green Park and has a jewellery business. He has been booked and raids are being conducted at his office and residence to find out if he has stashed away more tickets. ''Singhvi claimed that he had sold two tickets each at Rs 100. We have also contacted OC officials about his role in procuring the tickets. An accreditation card issued by OC was also found from his possesion,'' added a senior officer.
Meanwhile, the OC has replaced Sanjeev Mittal, in-charge of the ticketing function in the OC, with his junior, Monica Jolly, and simultaneously shifted the ticketing operations out of the OC headquarters to Ashok Hotel.
However, with tickets largely remaining unavailable, the Commonwealth Games Federation (CGF) chief, Michael Fennell, ordered an independent inquiry into the entire issue.
He said the report will come out on Sunday. The OC, meanwhile, continued to play mum, preferring to talk about the ''great turnout'' at the venues all over the city. Asked if all tickets were sold out for the Games, Bhanot admitted that only 10 lakh tickets had been sold till date. So why aren't the rest available to the public? Have they been converted into complimentary passes, as many feared when the rush for the Games started a few days ago?
Bhanot claimed that only 10% of the tickets sold every day were being distributed as complimentary passes. ''Every day, the order for tickets to be printed for the next day are based on the number of tickets unsold the day before. In the beginning, since tickets were not selling, we distributed some regular tickets as complimentary passes,'' said Bhanot. Interestingly, though, the number of complimentary passes hasn't been brought down once sales picked up. Bhanot said, instead, more passes are being printed.
Yet, tickets remain unavailable even as stands are not quite full.
According to Bhanot, this is not a critical issue. ''The turnouts are getting better...Saturday and Sunday saw almost all venues getting a sizeable crowd. Some tickets may have ended up with touts but we can't do anything about it,'' said the secretary-general. Spectators don't agree. Neither, it seems, does Fennell. Speaking at the daily press briefing, Fennell clearly disagreed, as he said, ''If people go to the ticketing counters and they don't get tickets, there is a problem.''
That the issue of complimentary passes is headed for trouble is evident from the fact that many can be seen being sold by touts in the black market. Sources at the venues claimed that the complimentary passes meant for the families of athletes, stakeholders and other VIPs never reach the venues till midway through the matches. For instance, in the match at Talkatora Stadium yesterday, featuring Vijender Singh, baskets of complimentary passes were delivered to the venue for distribution more than halfway through the bout. Said an official posted at the venue, ''The passes are of no use when they reach the venue at that time.''