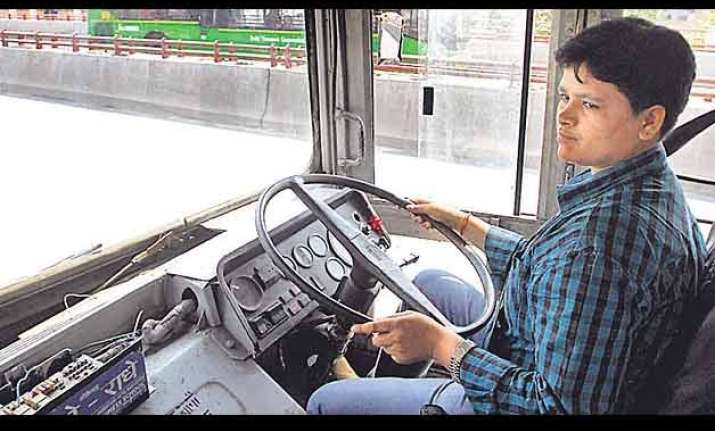 New Delhi: V. Saritha will be the first woman to hit Delhi roads as a DTC driver. At present she is on a training module in east Delhi. The Capital has witnessed women driving cabs, autos but a DTC bus would be a new beginning.
Hailing from Nalgonda in  Telangana, Saritha earlier worked as a private chauffeur in south Delhi. Saritha wants to send a message that a woman can do any job that a man can. Saritha says she wanted to drive bus to upend gender roles.
At traffic signals people don't notice her, taking her as a man. "My father raised me like a son and encouraged me to keep my hairs shorts and wear shirts and trousers," says Saritha who drove an auto in Narayanpur in Nalgonda. She also drove a college mini bus in Hyderabad.
Delhi Transport Corporation currently employs 8544 men on its rolls with another 4500 working on contract. Besides, the public carrier has about 243 female conductors, but no woman driver.
"My father is happy with the fact that I will have the distinction of being the first female DTC driver in the country's capital. But my mother is quite apprehensive," said Saritha .
With heavy traffic and impatient drivers, Saritha thinks driving in Delhi would be most challenging. She also gets worried about the cycle rickshaws suddenly coming front of the bus out of nowhere.
In the last two weeks, Saritha, as a part of her training module, has driven a DTC bus in all parts of the city, but she finds it difficult to drive in northeast Delhi, People just do not follow traffic rules here. I do not face much of a problem driving in Central and south Delhi, she says.
Saritha's driving instructor, Parvesh Sharma, is impressed with his student's progress. "Earlier I was worried when i was told that I would have to train a female driver but she has surprised me. Saritha  is the best among a group of 40 drivers I am presently training," says Sharma