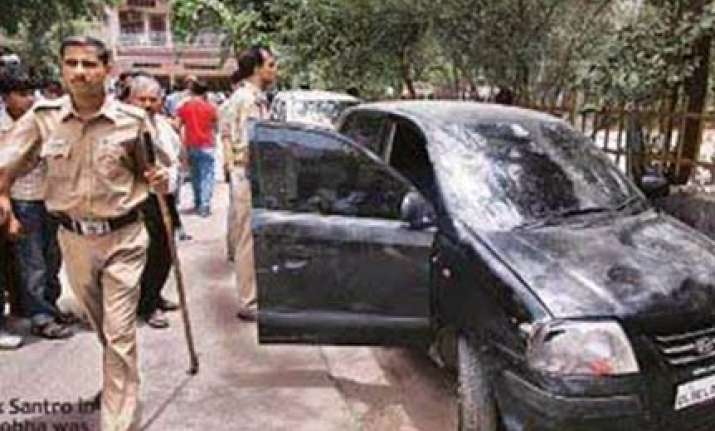 Delhi Police wasted precious time in tracing the Santro in which 20-year-old Shubha was found murdered, reports Times of India.
This matter cropped up on Tuesday after Rajesh, uncle of Rahul who owned the car, claimed that they had called up the local Ashok Vihar police station on Sunday itself and ''warned the cops that the car could be misused''.  
 ''We came to know on Sunday night that both Kuldeep and Monica had been murdered. We felt that since both Mandeep and Ankit had not returned our car, they may use it to escape from the capital,'' Rajesh said.
Ashok Vihar police said the number had been flashed immediately across all districts. ''We have been trying to nab the accused. We are questioning a few locals of H-block in Ashok Vihar and residents of Wazirpur village to find out whether anyone had noticed the Santro parked near the park,'' said a senior police officer.
Sonu, brother of Kuldeep, alleged that the accused should have been nabbed earlier. ''The fact that the car was found parked in the Ashok Nagar area shows that the police had not been vigilant," Sonu said.
DCP (Northwest) N S Bundela said they had established contact with Mandeep's sister Khushboo and her husband, Ravi, whom she had met at a dancing and modelling class at Khajuri Khas in northeast Delhi. ''We are in constant touch with the couple. We have told them to stay at their undisclosed location for the time being. We have also provided them with numbers of senior officers whom they can contact in case of any emergency. If there is any need, we will provide them security,'' said Bundela.
Senior police officers said they do not want to ''take any more chances''.
 ''The triple murder has been too shocking for all of us. We believe all of them took placc on a single evening. We are investigating this case from all possible angles but unless all the accused are nabbed, we want all the extended family members to feel safe,'' said the investigating officer.  
Joint commissioner (Northern Range) Karnal Singh said the police have released the number plates, chassis number details and a general alert has been sounded in all neighbouring states.