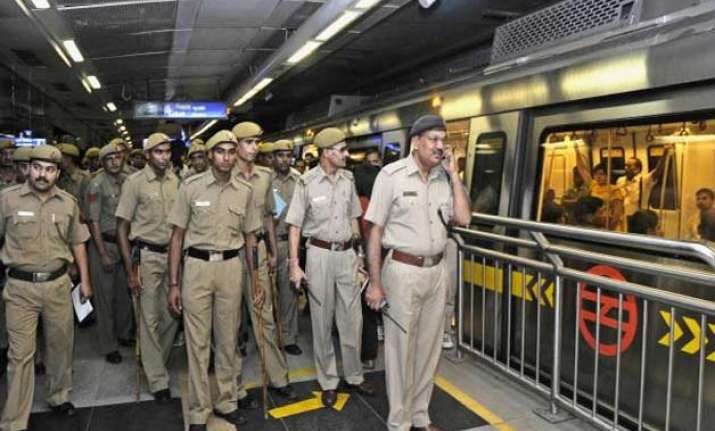 New Delhi: Delhi Police is often in news for the wrong reasons. With offences like taking bribe, harassing commoners, delayed action and collecting 'haftas' etc, the Delhi police has carved a bad image of itself in the country.
Though, in recent news South Delhi Police showed its 'Human Face' to the entire nation when its proactive approach saved the life of a young girl badly injured in a metro train accident.
The incident happened on August 8 at about 10:40 AM, when a 21-year-old girl identified as Tanuja Kumari unfortunately came under the metro train near Arjan Garh metro station. She was badly injured in the unfortunate accident. Her right hand was chopped by the fast moving train.
The accident was reported to the local PCR Van by unidentified man who saw the victim lying in unconscious state. The cops responded immediately to the call and reached the spot within two minutes. Without wasting any time in legal formalities they rushed the girl to the hospital.
Acting smart, the cops, while on way to the hospital, shifted her in an ambulance for first aid. The girl was later admitted to Fortis Hospital for treatment.
The good deed of the city cops did not end here.
Once the cops reached hospital they realised that the victims right hand was missing. The cops rushed back to the accident spot to pick up the chopped off hand. They took the body part back to the hospital to  hand it over to the doctors.
During mid night the victim was shifted to AIIMS Trauma Centre where operation was performed by the doctors and the hand was attached to her body.
The girl said to be out of danger now.
The survivor Tanuja, who is the resident of Bhagalpur, Bihar, was depressed due to family problems, said the police. However, it's not clear whether she had attempted suicide.
As per an eyewitness, she was talking loudly over the phone and suddenly fell on the tracks. Though, the train driver applied emergency brakes but the girl was run over.
Talking about the incident, Deepak Mishra, senior special commissioner of police said, "The episode was indeed a remarkable professional job by the PCR staff of south zone. Head constable Niranjan and constable Anil Rathore are being rewarded for their outstanding work."