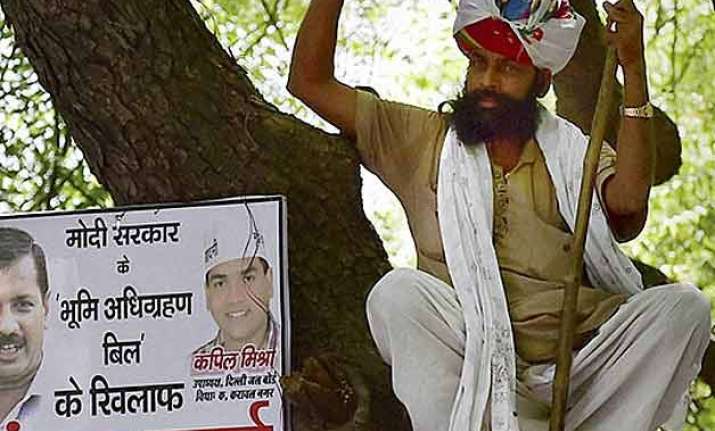 New Delhi: Delhi Police, in a report submitted to the Union home ministry, has blamed the supporters and workers of Aam Aadmi Party present at the  kisan rally for instigating farmer Gajendra Singh to commit suicide.
In the report submitted to the Union home ministry, Delhi police have also blamed AAP leaders for making provocative speeches during the rally.
Singh, a 41-year-old farmer from Rajasthan, allegedly committed suicide by hanging himself from a tree during an AAP rally.
Delhi Police has further stated in its reports that  the mob had been inciting and provoking Gajendra Singh to commit suicide and AAP leaders were making provocative speeches at the rally.
Delhi Police has said that it will also question the two eyewitnesses who had seen him climb the tree.  Delhi Police had already questioned Aam Aadmi Party volunteers who had climbed up the tree to bring   Gajendra down during the Party's rally at Jantar Mantar.
According to the post mortem report of farmer Gajendra Singh, he died from hanging.As per preliminary finding from post mortem report, death is due to hanging," Delhi Police Commissioner B.S. Bassi told the media.
The charges, however, were strongly refuted by District Magistrate (New Delhi) Sanjay Kumar who is carrying out a magisterial inquiry into the case.
"Why would we want to delay the post-mortem? In fact when we reached the hospital, police refused to recognise our authority. They didn't even reveal the name of the farmer to us. I don't know why they are saying this," Kumar told PTI.
The police had submitted the report to Singh on April 23 based on which he had made a statement on the issue in Parliament also.
Delhi Police Commissioner B S Bassi today sought to play down the matter, claiming that it was a "preliminary report" and its contents were "not relevant" today.
"Whenever there is an important incident, we give a preliminary report to the Home Minister. As the name suggests, it is an initial report, so what went in that report or what did not is not relevant today," he said.