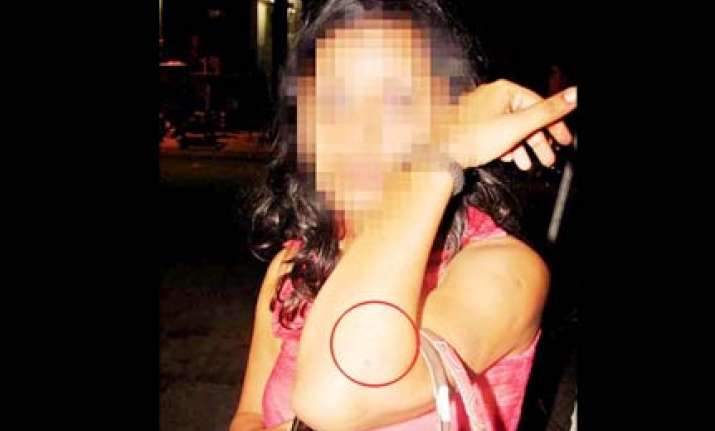 A Lajpat Nagar bar owner in Delhi allegedly tried to rape an MBA student inside a moving car on July 22, according to a complaint  filed by the girl with  the police, reports Mid Day.
Speaking to MiD DAY, the victim Roopa Roy (name changed) said that on that night she had gone to RAAS bar, situated in B Block at Lajpat Nagar.  
There she joined a group of people including a Russian girl and Varun Arora, the bar owner, whom she had met for the first time.  
Roopa says she did not speak to Varun at that point; they were only having drinks together.
"It was around 2 am when the bar closed. I called up the caretaker of my PG accommodation and asked him to arrange a cab for me. The caretaker expressed his inability and said I would have to return on my own. I was waiting for an auto-rickshaw or a taxi when Varun Arora, the bar owner, approached me and offered me a lift in his car. Varun assured me that he will drop me at my PG accommodation safely.
"I sat on the rear seat of the car while Varun was on the front seat along with the driver. However, on the way he stopped the car to sit beside me. He then started asking me questions about myself and eventually began molesting me. I resisted but he carried on. He threw me out of the car when I said that I am the daughter of a CBI officer and would call the police," alleged the victim.
Roopa said that she suffered injuries on her arms and chest. She approached the police but was asked to come next day. She further alleged that she had to visit police station several times before an FIR was finally lodged.
She also told MiD DAY that when she was travelling in his car, Varun told her that one of the persons who was sharing a drink with their group was the Maharaja of Udaipur and the Russian woman was a call girl.
"After that he pounced upon me, assaulted me and tried to rape me threatening me of dire consequences. I have scratches on my arms and chest. I said him that my father is a senior officer in CBI after which he opened the cars door and pushed me out. I fell on the road and got injured," said Roopa.
Meanwhile, a police officer said that a report had been filed on the basis of the allegations made by Roopa and the matter was being investigated. They also said that they were yet to get the forensic report of the victim.
"We have not arrested anyone in the case. She has charged the bar owner with attempted rape. We have taken the statement of Varun who claimed that the girl was demanding money. Varun has also alleged that he has a video recording of the girl when she was trying to blackmail him. But he has not given us the footage so far," said the police officer.
When contacted by MiD DAY, Varun Arora refused to speak on the matter. He claimed that he didn't know Roopa. When this reporter said that a copy of the FIR was in his possession, Varun said that it was a fictitious account.