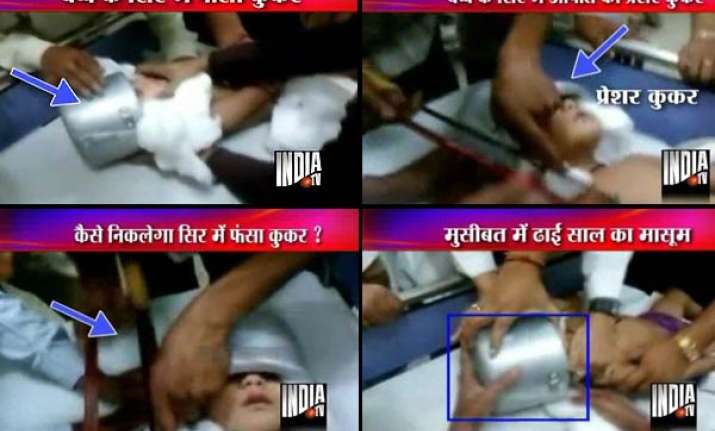 New Delhi, May 10 : In a nail-biting finish, doctors at the Bhagwan Mahavir Hospital in west Delhi's Pitampura on Monday, used cutter, saw and screwdrivers to cut open a 5 litre pressure cooker to extricate a child's head which accidentally got stucked inside it.
 
Two-and-a-half-year-old Shubham was playing around inside the kitchen at his home in Rani Bagh when he accidentally put in his head inside the pressure cooker in a bid to use it as a helmet, but could not take out his head.
 
"Mummy, mummy" bawled the child as the frantic family members tried their best to extricate his head.
 
The family rushed the child, with the pressure cooker on his head as a helmet, to a nearby nursing home, but the doctors present there expressed their inability because they had never handled such a case.
 
The child was then referred to Bhagwan Mahavir hospital in Pitampura, where doctors had a hard time figuring out ways to extract his head from the pressure cooker.
 
An iron cutter was used to cut open the 4.5 mm thick aluminium cooker, with wads of cotton inserted inside to insulate the child's head from the metal cutter.
 
After trying for nearly an hour, the doctors could not extract Shivam's head. The child was screaming throughout.
 
The doctors considered using an electric cutter but decided against it considering the kid's age.
 
After one-and-a-half hour, nearly 10-12 doctors of the hospital managed to extricate Shubham's head from the pressure cooker using saws, screwdriver and  a cutter.
 
The family, at the end of it all, heaved a sigh of relief.