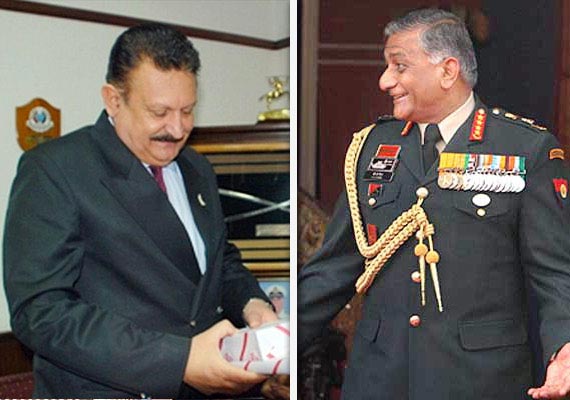 New Delhi, Jul 27:  Former Army Chief V K Singh, facing charges of criminal defamation, today earned the ire of a magistrate here after the retired General's counsel asked him to "recuse" himself during hearing in the case and was warned of action over the conduct.
"Do not tell me when I should recuse or not. You will not tell this to me. I can take cognisance... Do not say like this in the court. Just because I do not say anything or do not put my foot down on the matter, it does not mean that you will take me for granted. Do not take advantage of my leniency," Metropolitan Magistrate Jay Thareja told V K Singh's counsel.
The magistrate also told the former Army Chief, who appeared before him in pursuance to the bailable warrants issued against him for his failure to appear before the court earlier, that if his lawyer Vishwajeet Singh would show such conduct, then he may not be "liberal" to him.
"Mr Singh, I have been very liberal on this case. This is a normal case for me. But is this the conduct of your lawyer?  He had not appeared before me on the last date...I am afraid I will not be liberal," MM Thareja said.
During the hearing, advocate Anil Aggarwal, appearing for complainant Lt Gen (Retd) Tejinder Singh, moved two applications seeking cancellation of bail granted to V K Singh and cancellation of exemption granted to other four persons, against whom he had filed the defamation case.
The court, which clarified that it is not passing any adverse order against V K Singh today, said it would hear the arguments on the plea on August 21. It also said that it would also hear the arguments on V K Singh's plea for permanent exemption on that day.
Tejinder Singh had filed a criminal defamation case against V K Singh, Vice Chief of Army S K Singh, Lt Gen B S Thakur (Director General of Military Intelligence), Major General S L Narshiman (Additional Director General of Public Information) and Colonel Hitten Sawhney.
The complainant had alleged that he was defamed by the Army through its press release issued on March 5 last year which accused him of offering a bribe of Rs 14 crore to the then Army Chief to clear a deal of 600 trucks, a charge refuted by him.
During the hearing, Tejinder's counsel alleged that V K Singh was again defaming his client as he has given an interview to a news channel where he has made some allegations.
He alleged that the former Army Chief does not even has respect for the court as he had also made some derogatory remarks on it.
V K Singh's counsel Vishwajeet told the court that this is not a case for cancellation of bail and the court could recuse from hearing the matter.
The magistrate, however, said that bailable warrant was issued against V K Singh as no one had appeared for him before the court on the earlier hearing.
MM Thareja also told Singh's counsel that he could go to any appellate court and could challenge his orders.
The former Army Chief's lawyer said that V K Singh is a law abiding citizen and thus he has appeared before the court today.
He also told the court that a lawyer was present in the court on Singh's behalf on the earlier date of hearing when bailable warrant was issued against him.
The court, however, said that no lawyer was there in the courtroom when the matter was called for hearing.
During the arguments, Tejinder's lawyer alleged that Singh was making defamatory statements against his client before the media and the former Army Chief is also trying to intimidate this court.
"He (V K Singh) is publicly giving derogatory and defamatory statements against the court," Aggarwal said.
Earlier, the court had warned V K Singh of "stern action" as he was increasing the work load by separately filing an application for permanent exemption from personal appearance before it.
All the accused had appeared before the court on July 20 last year in response to the summonses issued against them.  They were granted bail by the court on that day on a personal bond of Rs 20,000 each.
In his complaint, Tejinder has accused them of misusing their official position, power and authority to level false charges against him.
The press release had blamed Tejinder, former chief of the Defence Intelligence Agency, and some disgruntled serving officers of the Military Intelligence of planting a story in the media relating to purported tapping of some sensitive phones in the national capital.
The court had said it was "prima facie" satisfied that the March 5 press release was "defamatory" as "ex-facie" serious allegation of "bribery" has been made against Tejinder who had a long and distinguished career in the Army.