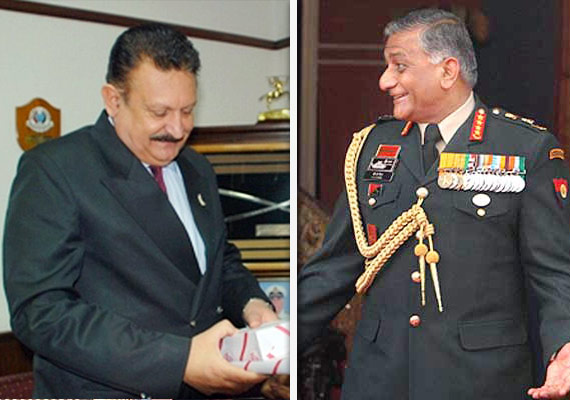 New Delhi, Mar 29: A Delhi court today took cognisance of a criminal defamation case filed against Army Chief General V K Singh and four other top Army officials by Lt Gen (retd) Tejinder Singh, accusing them of misusing their official positions for defaming him.
Metropolitan Magistrate Sudesh Kumar heard the arguments advanced by Tejinder Singh and his counsel and posted the case for recording of pre-summoning evidence on April 10.  
"I have heard the arguments. I take cognisance. Put up for pre-summoning evidence on April 10," the court said, adding it would examine Tejinder Singh and other witnesses on oath in support of the complaint against the Army Chief and others.  
Besides Gen V K Singh, Tejinder Singh has named Vice-Chief of Army Staff S K Singh, Lt Gen B S Thakur (DG MI), Major General S L Narshiman (Additional Director General of Public Information) and Lt Col Hitten Sawhney as accused in the case for allegedly misusing their official positions, power and authority to level false charges against him.  
During the hearing, the magistrate inquired from Tejinder Singh and his counsel about the respective roles of the five accused in the case.
"Why five of them are made accused? What are their roles?," the magistrate asked.
Tejinder Singh, who himself presented his case before the court along with his lawyers, said that false allegations were levelled against him by Gen V K Singh and other accused officers to defame him.
He said between March 1 and March 4, a large number of media reports had emerged with allegations of carrying out illegal off-the-air monitoring of call records of some senior officials and on March 5, media cell of the Army Head Quarters issued a press release levelling serious allegations against him by name.