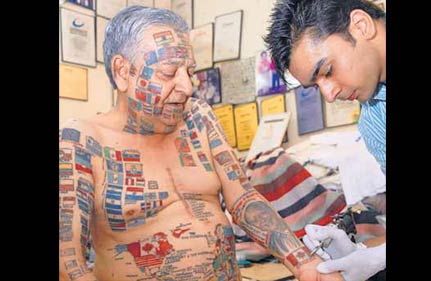 Guinness Rishi, who once sipped a litre of tomato ketchup in 40 seconds and hand-delivered a pizza from New Delhi to Ripley's museum in San Francisco to set a world record, is going to give a grand welcome to US President Barack Obama and the First Lady Michelle Obama in the way he knows best, reports MidDay.
Rishi, born Har Prakash, got a picture of the US first couple inked on his chest on Thursday to mark the first India visit of the Obamas that starts on Sunday.
"My wife refuses to go along with me to the market since I am mocked at. My in-laws call me a joker. My son, who is a Software professional in Chicago, refuses to acknowledge me publicly because my achievements embarrass my son. So that my grand children don't share the views of the rest family, I want to make them proud by getting the picture of their first citizen's on my body," he told MidDay.
The 67-year-old Rishi, who is planning to design a bra that can accommodate 60 pairs of assets, will also get the face of Sonia Gandhi and Rahul Gandhi inked on his body. "I would have got them done at one go but since I'm a diabetic and also underwent open heart surgery, I need more time to allow the wound to heal."
Talking over a phone from the chaotic lanes of North Delhi, where he lives, he said till now he has flags of 350 countries and names printed on his body. There's not even a single body part, beyond the obvious exceptions, that Rishi hasn't got tattooed.
 "People call me names but I feel that my libido has increased with growing number of candles on my birthday cake," adds the dealer of auto spares who in 1990 first entered the Guinness Book of World Records, when along with his two friends, he rode a scooter for 1001 hours (from April 22 to June 30) at Sarasbaug in Pune.
There was no looking back ever since. In 1991, he leased out the second floor of his house to The Guinness Club for one billion years, breaking the previous record of an Australian whose lease period was a million years. In 2001, he made another path-breaking record by adopting his 61-year-old brother-in-law.
"I have 18 world records, five certified by The Guinness Book, and the other 13 are pending because of the space crunch in the book," he elaborates. And oh! He even got all his teeth removed once, to accommodate 755 drinking straws, each measuring 5mm in diameter. He even takes along his family on the record trip. "Bimla (wife) gifted me a half-inch-by-half-inch piece of land; the smallest ever gifted and received. It's a joint record. In 1991, she wrote the smallest will, "All to Son". And for Sumit's (son) marriage, we printed half-inch-by-half-inch invitation cards."