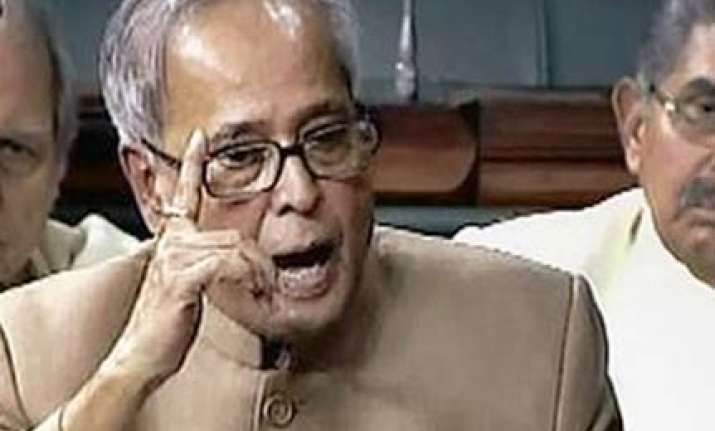 New Delhi: Bowing to demands by several political parties, government on Tuesday said it has decided to include caste in census and the formality of endorsing it is expected at the next Cabinet meeting.  
Finance Minister Pranab Mukherjee told the Lok Sabha that all political parties had supported the idea of including caste in census and there was no need for any "apprehensions" over the issue.  
His statement came after leaders of BJP, JD(U), BSP and Samajwadi Party wanted to know as to what happened to the government's promise on caste census, particularly since today was the last day of the Monsoon Session of Parliament.  
The Group of Ministers, which examined the issue, has decided that caste census should be carried out during house enumeration exercise, the Leader of the House said.  
It will be limited to collection of information with regard to caste and biometric exercise will go on simultaneously, he said about the issue which had earlier divided the Cabinet and even the GoM headed by Mukherjee.  
"The government has more or less decided (to include caste in census)," Mukherjee said.  
Noting that the 11-member GoM was not an empowered body, he said its decision will now have to be endorsed by the Cabinet, which he hoped would be done at the next meeting.  
"It is now a matter of formality," he said.  
Mukherjee recalled that after suggestions for inclusion of caste in census were received, he had written to political parties and most of them have responded "positively".  
Earlier, JD(U) chief Sharad Yadav raised the issue, saying the government had sought views of political parties which had responded in writing.  
However, nothing was heard after that, despite assurances by Mukherjee who held three meetings with leaders of various political parties on the issue, Yadav said.  
"There is unease in the country," he said, demanding early response from the government.  
He was supported by SP leader Mulayam Singh Yadav, BJP Deputy Leader Gopinath Munde and Dara Singh Chauhan (BSP).  
Mulayam Singh Yadav said there was consensus in the House over inclusion of caste in census and there was "no party which did not support it."  
He said Prime Minister Manmohan Singh and Mukherjee had promised to implement it at the earliest but despite that it had not happened.  
"What is the reason for this?.. What should be we do? Where should we go? We want the House to function but there should be a response from the government," he said.  
Munde also asked the government to spell out its intention. PTI