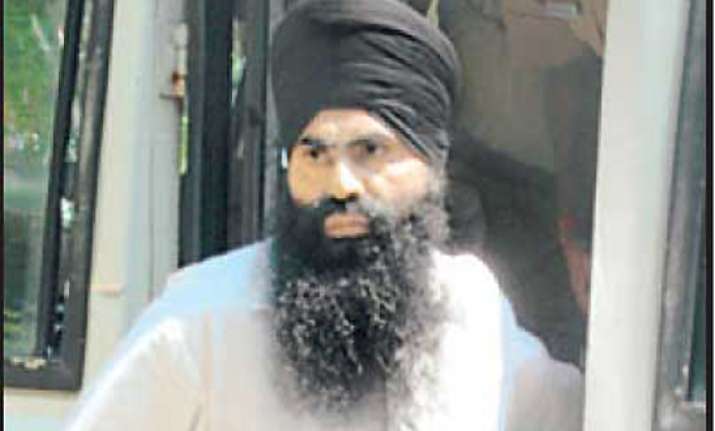 New Delhi, Jun 18: Death-row convict Devender Pal Singh Bhullar, whose mercy plea was rejected by President in a terror attack case leading to protests from parties in Punjab, is "mentally unstable" and is undergoing psychological treatment at a hospital for last seven months, officials and doctors said today.
Sentenced to death in 2001 for the 1993 bomb attack on Youth Congress leader MS Bhitta that killed nine people, Bhullar, who was a member of the Khalistan Liberation Force, has shown "no signs" of improvement even after over seven months' stay at Institute of Human Behaviour and Allied Sciences (IHBAS) in Shahdara where he is undergoing treatment for depression.
"He is mentally unstable.... His condition was getting better but from the time he got to know that his mercy plea has been rejected, he has developed withdrawal symptoms, has hallucination and keeps crying. This has made our job difficult," Nimesh G Desai, Medical Superintendent of Institute of Human Behaviour and Allied Sciences (IHBAS) in Shahdara, said.
The convict is visited by his mother, wife and his lawyer, and spends most of his time sleeping.
"He is mentally unstable. He has had depression. He had attempted suicide. Due to depression, his appetite too has reduced," Dr Desai said.
When asked, Tihar spokesperson Sunil Gupta confirmed that Bhullar has been found to have suicidal tendencies.  
President Pratibha Patil on May 26 rejected the mercy petition of Bhullar following which Punjab's ruling party the Shiromani Akali Dal sought Prime Minister Manmohan Singh's intervention to save him from the gallows. State Congress chief Amarinder Singh too had supported clemency for Bhullar.