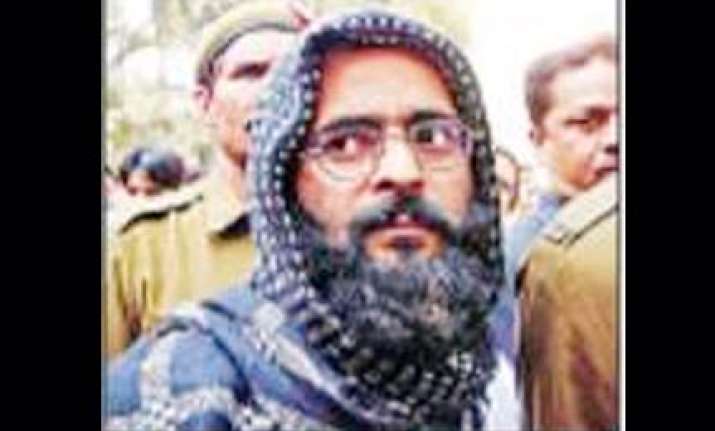 On death row for the past several years, two high- profile Tihar prison inmates want to shift to jails closer to their homes, says a Hindustan Times report.
December 2001 Parliament attack case convict Muhammed Afzal Guru and 1993 Delhi blast convict Devinder Pal Singh Bhullar have requested the Delhi government to transfer them to jails in Kashmir and Punjab, respectively.
Both are death convicts with pending mercy petitions and lodged in sub-jail number 3, ward number 8. "Their requests were on humanitarian grounds," said a prison source.  "They think it would make them stay closer to their relatives on a regular basis." While Guru wants to be shifted to a Srinagar jail, Bhullar prefers the jail in Amritsar.
Guru's wife Tabassum, son Ghalib and brother Hilal are based in Srinagar; Bhullar's rel- atives, including mother Upkar Kaur, are based in Punjab.
Guru's mercy petition is pending since 2006, Bhullar's since 2003. Guru was convict- ed of conspiracy in the 2001 attack case. Bhullar was convicted of the same charge in the September 1993 Delhi blast case. The duo's request applica- tions, drafted by their respec- tive lawyers, have referred to a central law -- Transfer of Prisoners Act, 1950.
The Act lays down the rules of transferring a prisoner from one state jail to another state's jail, provided the latter's gov- ernment approves the transfer request by an inmate. Guru and Bhullar occupy high-security single cells that are under closed-circuit television camera vigil round the clock. The duo's life on the death row goes by the clock: Their day begins at 5.30 a.m. with a headcount and ends with another at 10.30 p.m.
Tea and bread slices are served at 7 a.m. and at 4 p.m. Their lunch comes at 11 a.m. sharp and dinner is at 6 p.m., and there's a two-hour 'leisure period' between 3 and 5 p.m. They do not need to work, unlike other convicts.