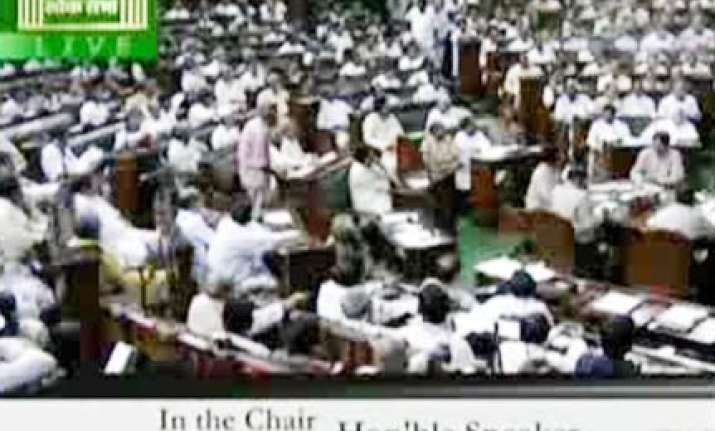 The government on Saturday assured agitating MPs that their concerns on salary hike would be addressed, NDA convenor Sharad Yadav said in the Lok Sabha, a day after several opposition parties conducted a 'mock' Parliament.  
Yadav made the statement during Zero Hour, shortly after he along with RJD chief Lalu Prasad and SP chief Mulayam Singh Yadav, Leader of the Opposition in the Rajya Sabha Arun Jaitley, BJP deputy leader Gopinath Munde and BSP leader Dara Singh Chauhan met Leader of the Lok Sabha Pranab Mukherjee.  
"The matter regarding the hike of salary of MPs has been resolved," Yadav said, apprising the House of the meeting. "The House will now function as per rules," he said.   
The leaders also conveyed their concerns over the manner in which the Medical Council of India Bill was passed in the Lok Sabha without discussion.  
It was decided at the meeting that a short duration discussion would be held in the House on the MCI Bill and its outcome would be considered appropriately in the next session.  
The meeting took place in the wake of disapproval by Speaker Meira Kumar of the 'mock' Parliament conducted by Lalu Prasad, Munde and Mulayam Singh Yadav.  
Senior BJP leaders had also made known their displeasure to party members who participated in the 'mock' Parliament.   
Several non-BJP opposition members had raised the salary issue in the Lok Sabha yesterday, saying the hike from Rs 16,000 to Rs 50,000 cleared by the Cabinet was inadequate. They demanded that the salary be raised to Rs 80,001 as recommended by the Parliamentary Committee on Salaries and Allowances. PTI