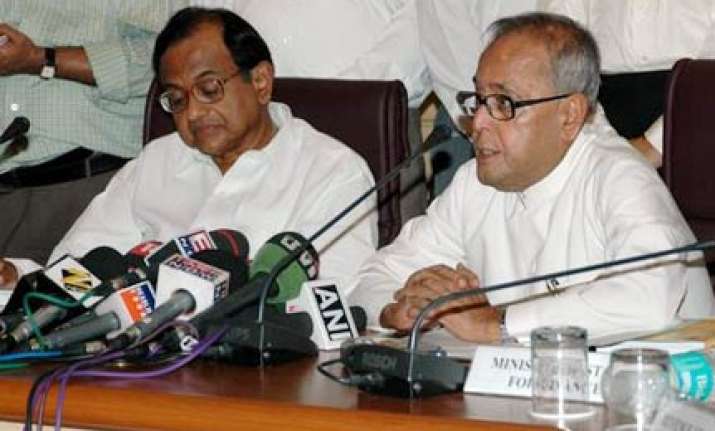 New Delhi: The week-long impasse in Parliament over price rise ended on Monday with the opposition giving up its demand for voting and agreeing to pass a resolution after discussion expressing concern over the issue in both Houses.
As per the consensus reached at an all-party breakfast meeting convened by Leader of the House in Lok Sabha Pranab Mukherjee, the Lower House will discuss the issue tomorrow. This will be followed by Speaker Meira Kumar reading out a resolution expressing "sense of the House" on the price rise issue.
A similar procedure will be followed in the Rajya Sabha on Wednesday with Chairman Hamid Ansari moving the resolution after discussions.
There were reservations from the opposition on the wording of the resolution which was initiated by the government.
"They were not using the word 'common man', so we objected. Now the words 'adverse impact of inflationary pressure on the common man' have been included in the resolution," Leader of Opposition in Lok Sabha Sushma Swaraj told PTI.
However, the government did not concede the opposition demand of including "price rise" in the resolution, arguing that the issue was a continuing phenomenon which could not be stopped and instead the term "inflationary pressure" should be used.
With the opposition and the government agreeing on the discussions, both the Houses of Parliament were expected to function normally. The two Houses had remained paralysed since the session began last Monday with the Opposition clashing with the treasury benches on the issue.
"This is a recognition of the protests launched by the opposition parties," CPI leader Gurudas Dasgupta said.
Those who attended the meeting included Leader of Opposition in Lok Sabha Sushma Swaraj, her counterpart in Rajya Sabha Arun Jaitley, JD-U President and NDA convenor Sharad Yadav, SP supremo Mulayam Singh Yadav and Ramgopal Yadav, BSP leader SC Mishra, AIADMK leader M Thambidurai, CPI-M's Sitaram Yechury and Basudev Achariya and CPI's Gurdas Dasgupta.  
From the UPA side, Home Minister P Chidambaram, NCP chief Sharad Pawar, DMK leader TR Balu, Parliamentary Affairs Minister Pawan Kumar Bansal, his deputy Prithviraj Chavan and V Narayansamy attended the meeting.  
During the hour-long meeting, the opposition pressed hard for changing the wordings of the resolution.  
"Now there is a resolution with consensus. Pranab Mukherjee read out the resolution. Opposition had certain disagreements. Government accepted those demands," SP chief Mulayam Singh Yadav said after the meeting. PTI