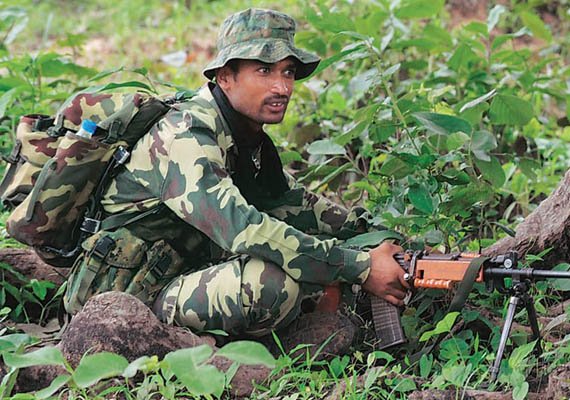 Raipur: Reaching out to tribals in Chhattisgarh's worst Maoist-hit Sukma district, CRPF has launched a new initiative of screening Bollywood movies for them as it feels that it would expose the people from the remote backward region to the mainstream.
Under this initiative, 'Kick' starring Salman Khan was screened on October 22 night at Kerlapal village, around 20 kms away from Sukma district headquarters inside the dense restive forests of South Bastar.
"It was for the first time when villagers saw an aeroplane, train and big buildings shown in the movie. We wish our children would see them for real in future," Joga, sarpanch of Kerlpal village said.
"Movies are one of the best means to know what is happening around the globe. The objective behind the move is to expose tribals to the other side of the world which is still inaccessible to them because of Maoist activities.  
"However, it will also help them to come closer to the mainstream through entertainment," Commandant, 2nd battalion of CRPF, VVN Prasanna, told PTI.
The attempt will also strengthen relations between the Central Reserve Paramilitary Force - the largest force fighting Naxals - and tribals in left wing extremism (LWE) area, Prasanna feels.
"We have planned to conduct such porogrammes every week in the interior villages of Sukma. We are using projectors and generators for the purpose," he said.
"Though we have started with a general entertaining movie like 'Kick' but further we will show movies with subject focusing on national integration, patriotism and motivation," he said.
'Mary Kom', 'Chak de India' and 'Bhaag Milkha Bhaag' will be among other movies to be shown in future, he said.
Moreover, choice and taste of children will also be taken care of and animated movies showing Mahabharata and Ramayana epics will be screened for them, Prasanna said.
Villagers have also hailed the initiative of securitymen.
"From time to time security forces conduct several programmes for betterment of villagers but this is a unique and the most entertaining one," a delighted Joga said expecting to see more such films in future to understand the cultural ethos, language, and lifestyle of people in other societies.