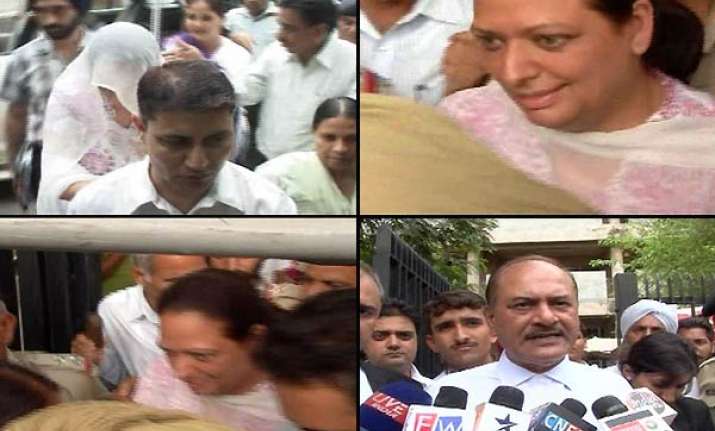 Chandigarh, July 26: Raka Gera, the widow lady DSP in Mohali, not only had Rs 1.20 crore cash at her residence, but also had a swanky well-stocked bar having  52 bottles including French cognac Meny Martin, Italian gin Cinzano, scotch Chivas Regal and various other brands.

On being caught taking Rs 1 lakh cash from a property dealer, she was sent to two days CBI custody by the court, though the investigating agency had sought seven days remand.

Raka Gera had a huge 1,000 sq yd bungalow in Sector 15  with a retinue of maids and servants.

She owned a luxury sedan and an SUV.

Suresh Kumar, a neighbour, said, "At the time of her marriage to Ranbir Singh, my family and I had visited their house for a function. She came across as an intelligent woman, full of life and with an eye for fashion. She had showed my wife her sarees and perfume collection. So we all knew that she had expensive tastes."

Some of her friends, who had landed up at the CBI court, where she was produced on Monday, also pointed out that she came from a well-off family and could not believe the charges levelled against her.

Widow of Ranbir Singh, a serving Punjab police DSP, who was posted at Sangrur when he passed away in a road accident in 1994, Gera had been offered the post of a Punjab police inspector in 1999 on compassionate grounds. Her father-in-law Prakash Chand, who passed away some years ago, had retired as an inspector general of police in Punjab.

Raka was caught red-handed after she made "desperate" phone calls to Mullanpur-based property dealer K K Malhotra demanding money to brush the cases against him under the carpet.

CBI sources said Raka had herself made over 15 phone calls, while the reader to the DSP, Manmohan Singh, made over a dozen calls in the past one week. Manmohan Singh is absconding.

On Sunday, after Raka was arrested by CBI, the agency found Rs 1.2 crore in cash from her house, Rs 75 lakh worth of fixed deposits, jewellery worth lakhs of rupees and other expensive artefacts.

"There are more arrests likely. We are in the process of investigating the case. The accused is yet to be interrogated thoroughly, after which more facts would be unearthed," a CBI official said.

Cases under  Excise Act  (for liquor bottles) and for possession of around 1,000 unauthorised cartridges under the Arms Act t have been registered.

Raka in her defence stated that all the liquor bottles recovered from her residence belonged to her husband and father-in-law and she had nothing to do with it.

As for the cash that was recovered from her house, Raka  told CBI that she had sold a property for which she had received the payment.

Sources said the phone recordings with CBI showed that Malhotra and Raka  had first fixed Saturday for payment.

On Saturday morning, Ghirra allegedly made a phone call (from her mobile 9814102110) to Malhotra, asking him to come to her residence in the evening. Malhotra went there at about 5 pm, with one of the CBI officers, whom he identified as his friend from Ludhiana. The officer recorded his conversation with Raka. 

She kept on insisting that he must pay her the money by 8 pm Saturday only. Malhotra told her that he would arrange the money and get back.

At around 8 pm, she again called Malhotra and allegedly threatened him with dire consequences, if he fails to pay the money on Sunday.

"Even if you are no more, I would still register a criminal case against you if you fail to pay me money," she threatened Malhotra, according to the recording.

On Sunday, at around 11.40 am, she again called Malhotra and asked him to come to her residence with the money. Malhotra went to her place, this time with a lady officer of the CBI, whom he identified as his wife and gave Raka  Rs 1 lakh, which was marked. The moment money changed hands, Raka was arrested by the CBI officer.

"There are around 116 acres of land in Mullanpur, on which I am pursuing litigation in various courts. I failed to understand, how Punjab police picked only these 14 acres and started slapping charges on me, one after another," Malhotra  told Indian Express.

"On March 13, the first case was registered against me, which got settled on March 18, with the intervention of Punjab police. But again on March 23, four criminal cases were registered against me, all in one go," Malhotra said.