Follow us on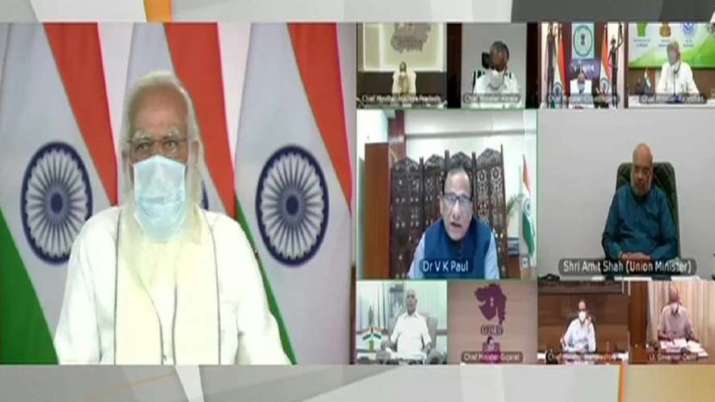 Prime Minister Narendra Modi on Friday held a meeting with Chief Ministers of 10 states with the most number of COVID-19 cases. The meeting via video conferencing comes amid a huge surge in coronavirus cases, which have now clocked a daily total of over 3 lakh in the country.
Chief Ministers of Maharashtra, Uttar Pradesh, Kerala, Chhattisgarh, Madhya Pradesh and Delhi are among those who attended the meeting. 
Meanwhile, West Bengal Chief Minister Mamata Banerjee didn't attend the meeting. Chief Secretary Alapan Bandyopadhyay represented the state at the review meeting, which was held via video conference. Banerjee had earlier skipped a few similar meetings as she was busy campaigning for the ongoing assembly elections.
States like Maharashtra, Delhi, Uttar Pradesh, Kerala are badly affected during the second wave. Several hospitals in Delhi, Mumbai are facing an acute shortage of oxygen which is essential in the treatment of Covid-19. The government is working hard for better coordination between states, hospitals and suppliers of oxygen and vaccines to meet the demand.
PM Modi himself is monitoring the situation with eminent doctors, vaccine manufacturers and others. Later in the afternoon, the Prime Minister will hold a meeting with leading oxygen manufacturers in the country via video conferencing. PM Modi was scheduled to visit West Bengal to address elections meetings. He, however, cancelled the visit in view of worsening Covid-19 situation. He will address the voters of Birbhum, Kolkata, Malda and Murshidabad virtually in the evening. 
Earlier on Thursday, the Prime Minister chaired a high-level meeting to review oxygen supply across the country. He asked top officials to work rapidly on increasing its production, boosting the speed of distribution and using innovative ways to provide oxygen support to health facilities. He also said that states must act against any hoarding of oxygen and directed officials to ensure that the oxygen supply to various states happens in a smooth, unhindered manner and called for fixing responsibility with the local administration in cases of obstruction.
In the meeting that also discussed ways and means to boost oxygen availability amid demands from many states for an increase in its supply, Modi was told that the supply of life-saving gas to states has been steadily increasing.
India on Friday recorded as many as the world's highest single-day spike with 3,32,730 fresh Covid-19 new cases in 24-hours, pushing the overall caseload to 1,62,63,695. This is the first time any country has recorded over 300,000 cases in just 24 hours.
READ MORE: 3.32 lakh COVID-19 cases & 2,263 deaths: India records highest-ever daily spike in world
READ MORE: Delhi: 25 'sickest' patients die, 60 critical at Sir Ganga Ram Hospital; low pressure oxygen suspected