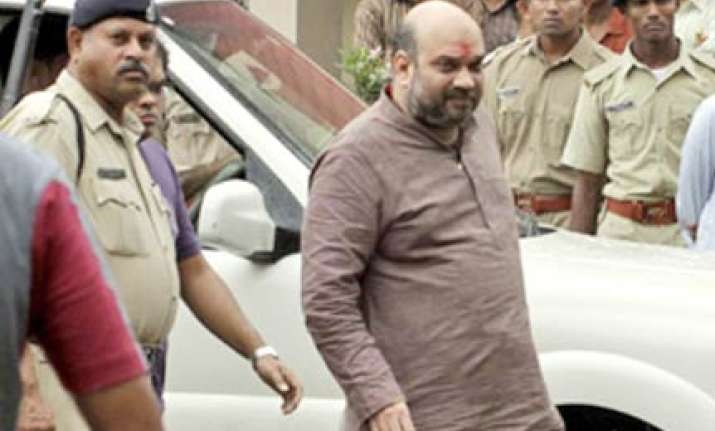 Ahmedabad: In a setback to CBI, a special court on Wednesday rejected its plea for former Gujarat minister Amit Shah's custody, saying the probe agency does not have substantial grounds to seek his remand in connection with the Sohrabuddin Sheikh fake encounter case. 
Additional Chief Judicial Magistrate A Y Dave rejected the CBI's application saying the agency was earlier given time to question Shah inside jail for three days, but they quizzed him for only for three hours.
Hence, the CBI demand for Shah's remand cannot be entertained, the court said.  The CBI had demanded 10 days remand of Shah, saying that he did not cooperate during interrogation in jail. 
The court further said the grounds for seeking Shah's remand given by the CBI in a sealed cover on Monday last, were "like general allegations".  "Grounds for remand have been mentioned by the agency. 
But in light of the constitutional rights of the accused, based on this short note (by CBI), to assume primarily that (Shah) is an accused would not be proper," the court said.  "In view of the facts also there are no substantial grounds with the CBI to seek remand of the accused (Shah)," it said. 
Senior Supreme Court lawyer K T S Tulsi representing the CBI had submitted that Shah's custody was required for recovery of "important documents" which are in his possession and could prove to be vital evidence in the case. 
The court said as per a Supreme court order, which was cited by Shah's counsel Ram Jethmalani, no remand could be granted for mere recovery or to extract names of other accused in the case.  
The court's order further mentioned that CBI had not sought to question Shah in the first 24 hours after his arrest on July 25.  Jethmalani had opposed CBI's plea and said the agency has no proof against him and was given enough time to interrogate Shah but did not utilise that time. 
Shah, a former minister of state for home and close aide of Chief Minister Narendra Modi, was arrested by CBI in connection with the fake encounter case and charged with murder, extortion and kidnapping.
The 46-year-old resigned from the government last month after he was declared an accused in the charge sheet filed in fake encounter case by CBI.  The charge sheet has named Shah as a key accused along with IPS officers D G Vanzara, Rajkumar Pandian, M N Dinesh and Abhay Chudasama. In all, 15 accused were named.  According to the charge sheet, it was Shah who had entrusted with the task of eliminating Sheikh, an alleged gangster, to Vanzara, Pandia and Chudasama. PTI