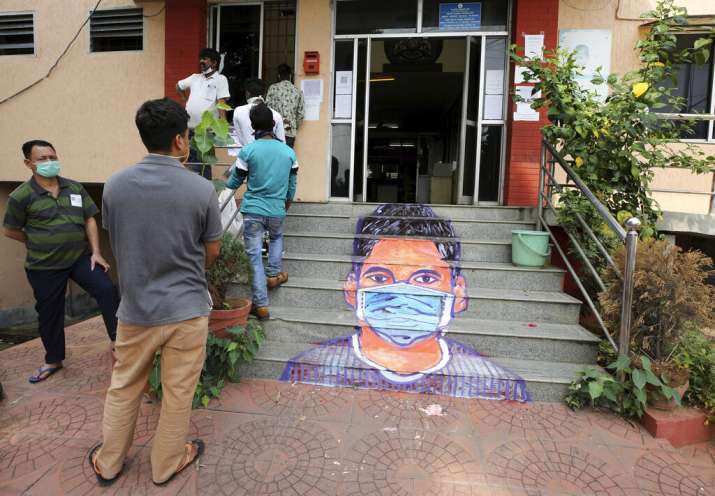 Coronavirus cases in India have risen to 1,06,750 while the death toll has notched up to 3,303. As per the latest figures issued by the Ministry of Health and Family Welfare (MoHFW), there have been almost 5,611 new cases reported in the last 24 hours while the death toll has increased by 140. Maharashtra remains the worst-hit state in India due to COVID-19. The latest figures put Maharashtra's cases at 37,136 and deaths at 1,325. With over 42,000 recoveries, India's recovery rate has gone up to 39.62%. 
This is India's highest single-day spike in cases.
On Tuesday, India became the 11th country to rack up 1 lakh coronavirus cases after USA, Russia, Spain, Brazil, the UK, Italy, France, Germany, Turkey and Iran. As many as 15 countries across the world have a higher coronavirus death toll than India. 
| Name of State / UT | Total Confirmed cases* | Deaths** |
| --- | --- | --- |
| Andaman and Nicobar Islands | 33 | 0 |
| Andhra Pradesh | 2532 | 52 |
| Arunachal Pradesh | 1 | 0 |
| Assam | 142 | 4 |
| Bihar | 1498 | 9 |
| Chandigarh | 200 | 3 |
| Chhattisgarh | 101 | 0 |
| Dadar Nagar Haveli | 1 | 0 |
| Delhi | 10554 | 168 |
| Goa | 46 | 0 |
| Gujarat | 12140 | 719 |
| Haryana | 964 | 14 |
| Himachal Pradesh | 92 | 3 |
| Jammu and Kashmir | 1317 | 17 |
| Jharkhand | 231 | 3 |
| Karnataka | 1397 | 40 |
| Kerala | 642 | 4 |
| Ladakh | 43 | 0 |
| Madhya Pradesh | 5465 | 258 |
| Maharashtra | 37136 | 1325 |
| Manipur | 9 | 0 |
| Meghalaya | 13 | 1 |
| Mizoram | 1 | 0 |
| Odisha | 978 | 5 |
| Puducherry | 18 | 1 |
| Punjab | 2002 | 38 |
| Rajasthan | 5845 | 143 |
| Tamil Nadu | 12448 | 84 |
| Telengana | 1634 | 38 |
| Tripura | 173 | 0 |
| Uttarakhand | 111 | 1 |
| Uttar Pradesh | 4926 | 123 |
| West Bengal | 2961 | 250 |
| Cases being reassigned to states | 1096 |   |
| Total number of confirmed cases in India | 106750 | 3303 |