Follow us on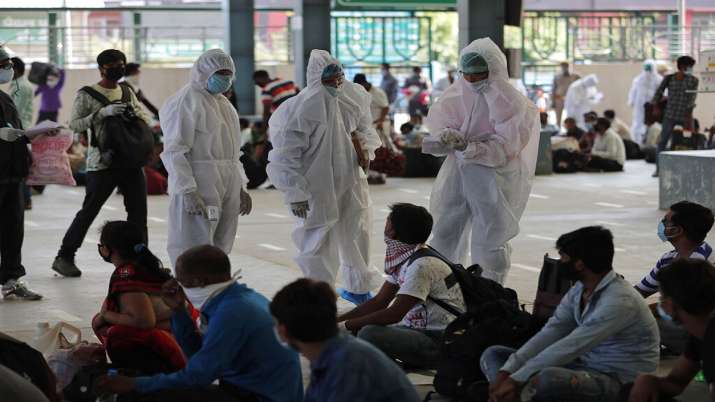 India coronavirus cases have crossed 52,000-mark taking confirmed patients toll to 52,952 including 1,783 deaths while 15,267 have recovered, as per the health ministry figures released on Thursday. In the past 5 days, India has recorded close to 10,000 COVID-19 cases even as lockdown continues across the nation. This has been the fastet rise in coronavirus cases as frequency of testing is increasing. India has so far tested over 1.2 million samples for coronavirus out of which over 50,000 have been confirmed for the infection.
The nation is currently under lockdown 3.0 or exit 2.0 according to the government as several relaxations were provided like opening of non-essential shops, restarting businesses with bare minimum staff including private office. While coronavirus cases continue to rise, the government is also having discussions on stimulus package for the business industry as COVID-19 pandemic and lockdown has hit economy with many businesses incuring heavy loses.
Maharashtra, Delhi, Gujarat, Rajasthan, Madhya Pradesh remain the worst hit states in the country due to the coronavirus outbreak, with cases in Maharashtra and Delhi crossing 15,000 and 5,000 mark.
State-wise list of COVID19 cases, deaths in India
| Name of State / UT | Total Confirmed cases (Including 111 foreign Nationals) | Cured | Deaths ( more than 70% cases due to comorbidities ) |
| --- | --- | --- | --- |
| Andaman and Nicobar Islands | 33 | 32 | 0 |
| Andhra Pradesh | 1777 | 729 | 36 |
| Arunachal Pradesh | 1 | 1 | 0 |
| Assam | 45 | 32 | 1 |
| Bihar | 542 | 188 | 4 |
| Chandigarh | 120 | 21 | 1 |
| Chhattisgarh | 59 | 36 | 0 |
| Dadar Nagar Haveli | 1 | 0 | 0 |
| Delhi | 5532 | 1542 | 65 |
| Goa | 7 | 7 | 0 |
| Gujarat | 6625 | 1500 | 396 |
| Haryana | 594 | 260 | 7 |
| Himachal Pradesh | 45 | 38 | 2 |
| Jammu and Kashmir | 775 | 322 | 8 |
| Jharkhand | 127 | 37 | 3 |
| Karnataka | 693 | 354 | 29 |
| Kerala | 503 | 469 | 4 |
| Ladakh | 41 | 17 | 0 |
| Madhya Pradesh | 3138 | 1099 | 185 |
| Maharashtra | 16758 | 3094 | 651 |
| Manipur | 2 | 2 | 0 |
| Meghalaya | 12 | 10 | 1 |
| Mizoram | 1 | 0 | 0 |
| Odisha | 185 | 61 | 2 |
| Puducherry | 9 | 6 | 0 |
| Punjab | 1516 | 135 | 27 |
| Rajasthan | 3317 | 1596 | 92 |
| Tamil Nadu | 4829 | 1516 | 35 |
| Telengana | 1107 | 628 | 29 |
| Tripura | 43 | 2 | 0 |
| Uttarakhand | 61 | 39 | 1 |
| Uttar Pradesh | 2998 | 1130 | 60 |
| West Bengal | 1456 | 364 | 144 |
| Total number of confirmed cases in India | 52952* | 15267 | 1783 |
ALSO READ | Coronavirus worldwide cases cross 3.8-million mark; death toll at 2,65,042
ALSO READ | PM Modi urges people to feed off each other and stay resolved in COVID-19 fight | Highlights
​