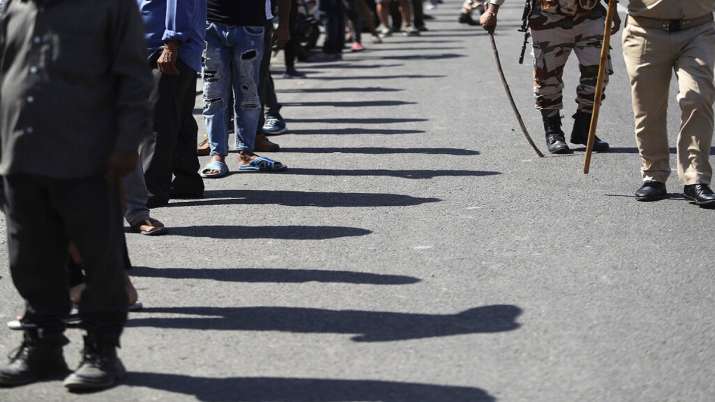 India coronavirus cases have crossed 1.3 lakh mark taking tally to 1,31,868 including 3,867 deaths while 54,441 have recovered, according to health ministry's figures released on Sunday. In the last 24 hours, a record 6,767 new COVID-19 cases have been reported from across the country. The nation is under the third extended phase of lockdown which will remain in place till May 31 in order to curb the spread of coronavirus.
On Saturday, Union Health Secretary Preeti Sudan along with other senior officials interacted with representatives of 11 municipal areas from Maharashtra, Tamil Nadu, Gujarat, Delhi, Madhya Pradesh, West Bengal and Rajasthan which have reported a high number of COVID-19 cases. These areas alone account for 70% of India's active case-load.
A presentation was made to highlight the trend in case trajectory with respect to total confirmed cases, the fatality rate, doubling time, tests per million and confirmation percentage.
At a time when the nation is dealing with health and economic crisis, Finance Minister Nirmala Sitharaman Saturday said that the economic package announced by the Centre to help revive the economy amid the coronavirus pandemic is not different from that announced by the other countries, but may vary in proportion.
In an interaction with BJP national spokesperson Nalin Kohli, the Finance Minister said that the packages announced by other nations were studied and it was found that all the other counties brought together a basket of fiscal, monetary and central bank's liquidity measures, as India has done.
"We are not at all different from them. The proportion may vary," she said.
State-wise list of coronavirus cases, deaths in India
| Name of State / UT | Total Confirmed cases* | Cured | Deaths** |
| --- | --- | --- | --- |
| Andaman and Nicobar Islands | 33 | 33 | 0 |
| Andhra Pradesh | 2757 | 1809 | 56 |
| Arunachal Pradesh | 1 | 1 | 0 |
| Assam | 329 | 55 | 4 |
| Bihar | 2380 | 653 | 11 |
| Chandigarh | 225 | 179 | 3 |
| Chhattisgarh | 214 | 64 | 0 |
| Dadar Nagar Haveli | 2 | 0 | 0 |
| Delhi | 12910 | 6267 | 231 |
| Goa | 55 | 16 | 0 |
| Gujarat | 13664 | 6169 | 829 |
| Haryana | 1131 | 750 | 16 |
| Himachal Pradesh | 185 | 61 | 3 |
| Jammu and Kashmir | 1569 | 774 | 21 |
| Jharkhand | 350 | 141 | 4 |
| Karnataka | 1959 | 608 | 42 |
| Kerala | 795 | 515 | 4 |
| Ladakh | 49 | 43 | 0 |
| Madhya Pradesh | 6371 | 3267 | 281 |
| Maharashtra | 47190 | 13404 | 1577 |
| Manipur | 29 | 4 | 0 |
| Meghalaya | 14 | 12 | 1 |
| Mizoram | 1 | 1 | 0 |
| Odisha | 1269 | 497 | 7 |
| Puducherry | 26 | 10 | 0# |
| Punjab | 2045 | 1870 | 39 |
| Rajasthan | 6742 | 3786 | 160 |
| Sikkim | 1 | 0 | 0 |
| Tamil Nadu | 15512 | 7491 | 103 |
| Telengana | 1813 | 1065 | 49 |
| Tripura | 189 | 153 | 0 |
| Uttarakhand | 244 | 56 | 2 |
| Uttar Pradesh | 6017 | 3406 | 155 |
| West Bengal | 3459 | 1281 | 269 |
| Cases being reassigned to states | 2338 |   |   |
| Total# | 131868 | 54441 | 3867 |
(With inputs from IANS)
ALSO READ | 2600 trains to run in next 10 days, 36 lakh people likely to travel
ALSO READ | Maharashtra govt says no to air travel until May 31
​