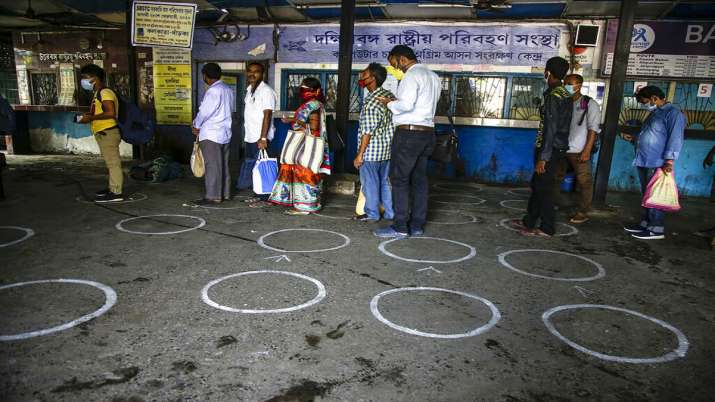 India coronavirus cases have crossed 2.26 lakh mark taking positive patients toll to 2,26,770 including 1,10,960 active cases 1,09,462 recovered and 6,348 deaths, according to health ministry's figures released on Friday. In the past 24 hours, India has reported 9,851 new COVID-19 cases and 273 deaths. Maharashtra, Tamil Nadu and Delhi are the worst-hit states in terms of having the maximum number of coronavirus cases.
On Thursday, the Delhi government has issued an SOP on handling the COVID-19 positive patients, directing all the hospitals to shift the patient from the vehicle to the triage area in 15 minutes without asking for details.
In an order issued on Thursday, Padmini Singla, Secretary, Health and Family Welfare Department, divided the Standard Operating Procedure (SOP) into reception of COVID patients at the Hospital; Admission of a patient; Treatment and test; and discharge.
"(The) Covid patient shall be brought by hospital staff from the ambulance or whichever vehicle used by the patient reaching hospital, to the triage area, without asking for details. This process must be complete in 15 minutes," it said.
The order said in view of Covid-19 pandemic and to streamline the SOP for handling of Covid-19 positive or suspect patients in Covid hospital, a simplified SOP to be followed by all Covid hospitals.
State-wise list of COVID-19 cases, deaths in India
| Name of State / UT | Active Cases* | Cured | Deaths** | Total Confirmed cases* |
| --- | --- | --- | --- | --- |
| Andaman and Nicobar Islands | 0 | 33 | 0 | 33 |
| Andhra Pradesh | 1613 | 2539 | 71 | 4223 |
| Arunachal Pradesh | 41 | 1 | 0 | 42 |
| Assam | 1542 | 442 | 4 | 1988 |
| Bihar | 2254 | 2210 | 29 | 4493 |
| Chandigarh | 82 | 214 | 5 | 301 |
| Chhattisgarh | 541 | 213 | 2 | 756 |
| Dadar Nagar Haveli | 11 | 1 | 0 | 12 |
| Delhi | 14456 | 9898 | 650 | 25004 |
| Goa | 109 | 57 | 0 | 166 |
| Gujarat | 4762 | 12667 | 1155 | 18584 |
| Haryana | 1123 | 2134 | 24 | 3281 |
| Himachal Pradesh | 199 | 179 | 5 | 383 |
| Jammu and Kashmir | 2059 | 1048 | 35 | 3142 |
| Jharkhand | 433 | 354 | 6 | 793 |
| Karnataka | 2653 | 1610 | 57 | 4320 |
| Kerala | 884 | 690 | 14 | 1588 |
| Ladakh | 41 | 48 | 1 | 90 |
| Madhya Pradesh | 2748 | 5637 | 377 | 8762 |
| Maharashtra | 41402 | 33681 | 2710 | 77793 |
| Manipur | 86 | 38 | 0 | 124 |
| Meghalaya | 19 | 13 | 1 | 33 |
| Mizoram | 16 | 1 | 0 | 17 |
| Nagaland | 80 | 0 | 0 | 80 |
| Odisha | 1055 | 1416 | 7 | 2478 |
| Puducherry | 57 | 25 | 0 | 82 |
| Punjab | 325 | 2043 | 47 | 2415 |
| Rajasthan | 2545 | 7104 | 213 | 9862 |
| Sikkim | 2 | 0 | 0 | 2 |
| Tamil Nadu | 12134 | 14902 | 220 | 27256 |
| Telengana | 1455 | 1587 | 105 | 3147 |
| Tripura | 471 | 173 | 0 | 644 |
| Uttarakhand | 846 | 297 | 10 | 1153 |
| Uttar Pradesh | 3553 | 5439 | 245 | 9237 |
| West Bengal | 3753 | 2768 | 355 | 6876 |
| Cases being reassigned to states | 7610 |   |   | 7610 |
| Total# | 110960 | 109462 | 6348 | 226770 |
ALSO READ | Global coronavirus cases near 6.7 million; death toll at 393,102