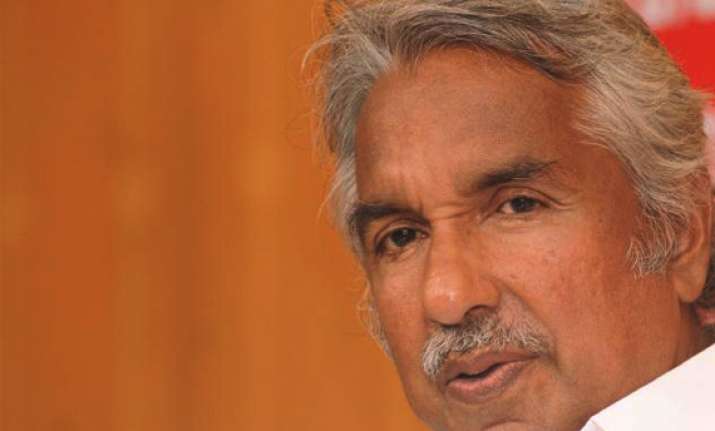 Thiruvananthapuram, Apr 12: Yielding to coalition compulsions, Congress in Kerala today conceded the demand by Indian Union Muslim League for a fifth ministerial berth with the induction of its nominee Manjalamkuzhi Ali along with Anoop Jacob of (KC-J) into the ministry led by Oommen Chandy.
Despite stiff opposition from sections in the Congress, a meeting of UDF leaders last night settled the issue as the IUML firmly stood by the demand for one more berth.  
With two more joining the cabinet, the strength of the 11-month-old ministry rose to 21, of which 10 are from Congress, five from IUML, two Kerala Congress (M) and one each from KC (J), KC (B), SJD and RSP (B).
Though a long-standing ally of the Congress and the second largest partner in the UDF, IUML's demand for the fifth ministerial position was opposed by sections in the Congress fearing it would upset the communal composition of the ministry in which Christians and Muslims outnumber the Hindus.  
After a consensus eluded at the KPCC meet held a last week, the party leaders held several rounds of discussions with the high command but the latter sent signals that the issue should be resolved at the state level.
The move also triggered sharp criticism from Nair Service Society (NSS), an influential organisation which has often taken a pro-UDF stand.
The Sree Narayana Dharma Pariapalana Yogam of the Ezhava community also expressed similar view on the Congress's decision.
Karnataka Governor H R Bhardwaj, who holds additional charge of Kerala, administered the oath of office to Ali and Jacob at the Raj Bhavan here.
Anoop's induction filled the vacancy caused by the death of his father T M Jacob in October last, who was then Food and Civil Supplies minister.
Anoop (34) was elected from Piravom in Ernakulam district in the assembly by-poll last month.
An entrepreneur-turned-politician, Ali left the LDF and joined IUML on the eve of assembly polls last year.
He was elected from Perinthalmanna in Malappuram district. In 2001 and 2006, he was elected to the assembly from Mankada segment as LDF independent.
Chandy, opposition leder V S Achuthanandan, KPCC president Ramesh Chennithala and Speaker G Karthijeyan attended the function.
BJP called hartal in the state capital protesting the decision to award fifth ministerial position to IUML.