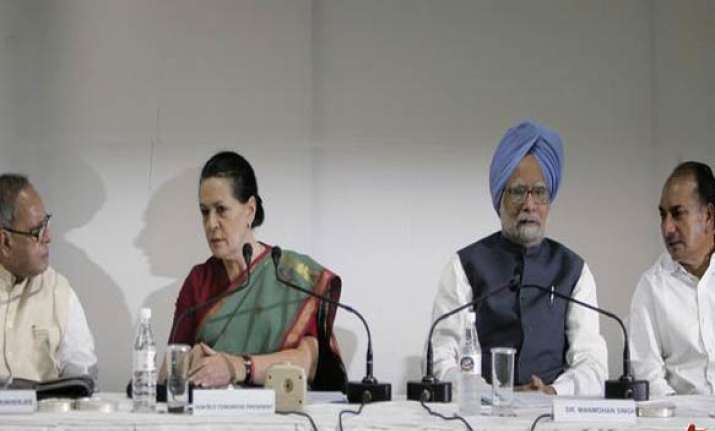 New Delhi, Jun 18: Like the Lok Pal Bill, an undecided Congress leadership has opted for calling an all-party meet in Andhra Pradesh on the Telangana imbroglio.
 
Congress top brass is virtually burning the mid-night oil to find a solution to the Telangana statehood demand amid threats by party MPs, MLAs and ministers from the region to quit en masse if a decision on the issue is not taken soon.

Party President Sonia Gandhi and Prime Minister Manmohan Singh on Saturday took stock of the situation in Andhra Pradesh in a two-hour long meeting of Congress Core Group here.

This was second meeting of the Core Group since Friday in which the issue was discussed at length, but no final decision could be arrived at.

The issue of Telangana has witnessed a sharp division along regional lines in the Congress in Andhra Pradesh, the only major state where the party is in power on its own.

In the past one week, leaders from Telangana have met Prime Minister Manmohan Singh, Finance Minister Pranab Mukherjee, Home Minister P Chidambaram and Congress chief's political secretary Ahmed Patel.

Mukherjee and Chidambaram, who are also members of the Core Group, are learnt to have apprised the Prime Minister and Gandhi of the views of Telangana leaders on the issue.Chidambaram, in fact, gave only 15 minutes of his precious time to hear the views of AP MLAs and MPs.

Earlier, party leaders from coastal Andhra and Rayalseema regions had also met Mukherjee apprising him of their sentiments for a united Andhra Pradesh.

The Justice Srikrishna Committee, which went into the issue, has recommended six options including creation of a separate Telangana state with Hyderabad as its capital and keeping Andhra Pradesh united with constitutional and statutory measures for empowerment of the Telangana region.

With the central leadership in an indecisive mode, the Telangana cauldron threatens to boil over in Andhra Pradesh.