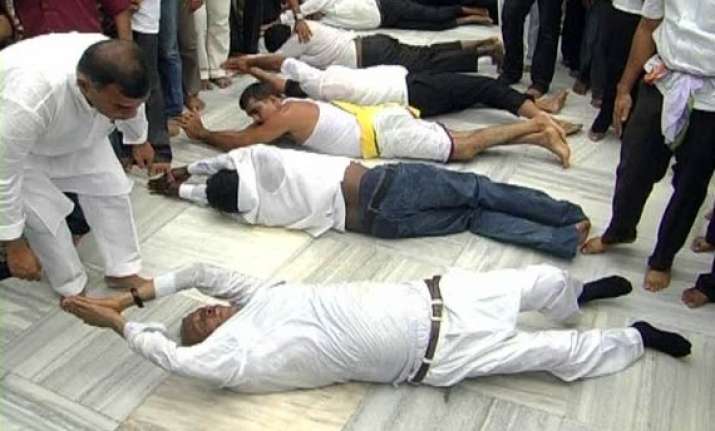 Mangalore, Aug 7: Former Union minister and senior Congress leader, B Janardhana Poojary, on Sunday performed Urulu Seve — a religious act of rolling around the temple's periphery.
He undertook this 'service' as an offering to God as he prayed for AICC president Sonia Gandhi's speedy recover. 
Sonia Gandhi has been operated upon in the US for an undisclosed ailment.
Seventeen of Poojary's aides also followed their leader as they rolled around the Gokarnanatha temple in Kudroli in Mangalore.
This was quite a contrast with the celebrations that took place at residence of KPCC president G Parameshwar, who celebrated his birthday by cutting a cake and having a gala time with his party colleagues.
Poojary, 74, arrived at the temple early in the morning and participated in the Mrutyunjaya homa and Bali Pradakshina pooja, both of which are generally performed for good health of a person who is critically ill. 
"Our leader is undergoing treatment for a critical health problem and this is the least we can do for her. We hope and pray that our physical discomfort at performing the Urulu Seve to Lord Gokarnanatheshwara would reduce the pain our leader, Sonia Gandhi, is enduring. I am sure Gokarnanatheshwara will help her recover fast and return to the country," he said.
Poojary was accompanied by three persons — Harish Kumar, Somayya Maistry and Harishchandra — who survived cancer after offering prayers at the temple. "If it worked for them, I am sure His blessings will work wonders for our leader too," Poojary added.
"The Nehru-Gandhi family, during their 60 years of service to the country, never inaugurated any religious place in the country. Gokarnatheshwara temple in Kudroli became the first to get that distinction when Rajiv Gandhi inaugurated it in 1991 and it is only prudent on our part to do this small service for his wife, Sonia Gandhi," Poojary told DNA. 
Poojary's right-hand man, Harikrishna Buntwal, fondly remembered another occasion when Poojary had performed Urulu Seve.
"When Dr Rajkumar was abducted by forest brigand Veerappan in 2000, Poojary and three others performed Urulu Seve at the Tirupati temple at 2am. Then, he had driven straight to Rajkumar's house and delivered the prasadam to his wife Parvathamma Rajkumar."